Your Chosen Card – Ace of Chalices Reversed Salem Deck
When reversed, the watery Ace of Cups hints at delays or difficulties in beginning a new love relationship or initiating a creative project. This can result in a sense of dissatisfaction, instability, and loneliness. Some type of overabundance in the boundlessness of the element Water may be interfering with your ability to focus. Water is a necessary element for life and continued growth, but the myth of Noah and the Great Flood teaches us that an excess of water can act as a destructive force.
Keywords Reversed: Instability, changeability, excess, infertility, loneliness, inconstancy, dissatisfaction, inadequate nourishment.
Timing: Astrologically, Water is linked to summertime.
Astrology: Root-force of elemental Water, the element associated with the season of summer.
Number Symbolism: 1 – initial spark, will, creation, beginnings, new life.
Etteilla: A table, a meal, feast, treat, reception, hosting, an inn, abundance, fertility; (R) inconstancy, weakness, diversity, changeability.
When Ace of Chalices is reversed you can pretty much take it that life is going well but that's when life takes us by surprise.  If Ace of Chalices is unclear it may help to choose a card from the Major Arcana to provide more insight into what it is Ace of Chalices is trying to tell you.  If you had a particular issue in  mind, or want to seek clarification on something else, you can also choose again to get more guidance.

This chosen card is part of your reversed card reading for Ace of Chalices using cards from the Salem Tarot Deck. You will find many more tarot pages that will be of great help if you need tarot card meanings. Use the search at the bottom of the page. We have some amazing tarot books for you to browse. Please see below.
---
Here are some snippets from a few of my favorite books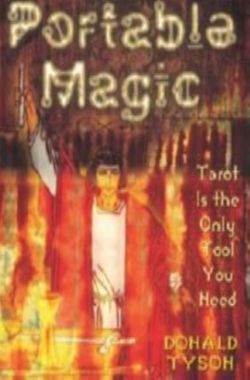 Portable Magic: The members of the Golden Dawn may not have understood why elemental Earth must be omitted from the Hebrew letters, and consequently from the trumps of the Tarot. They made an attempt to slip elemental Earth into the Greater Arcana correspondences through the back door, as it were, by creating a dual association for the final trump, the World. In most tables of the correspondences based on Sqbher Yetzirah and confirmed by the Secret Chiefs, the World receives only the planet Saturn, but in some documents of the Golden Dawn where the correspondences are shown (Regardie, The Golden Dawn, 6th ed., 651), and in similar documents of Aleister Crowley (The Book of Thoth, 2'78), the World is also given elemental Earth.
Portable Magic: In turn, touch the Ace of Swords, Ace of Cups, Ace of Pentacles, and Ace of Wands, so that your finger draws a cross in the air above the altar. As you touch the Aces, say:
Tarot for Beginners: The Lovers card read reversed could indicate a misalignment of values, or disharmony in an area of life related to relationship with others or with self. Commitment issues and/or break-ups may be indicated, especially if one partner would rather pull away than work through difficulties. Whatever comes of the choice made by you or someone you care about, it will ultimately be for the good.
Do get in touch if you looked for Ace of Chalices and we don't have it listed. We would be more than happy to source the information for you. We hope you visit again for more online tarot information!
Tarot Card Meanings: Ace of Cups; the home, the heart, the seat of joy and happiness.  The place in which the inquirer lives.  Reversed; minor troubles or, according to some older sources, a visitor to the home.