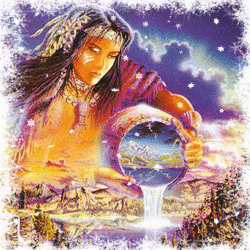 Warning !
There is a huge number of scammers, especially from Nigeria, offering so called free readings.  It is rife on Facebook groups.
Please don't fall for these scams.  Typically they will sucker you in and end with 'there is a curse on you' and a sacrifice will solve the problem. This of course, requires you to pay them, sometimes a small amount, sometimes a large amount, depending on how gullible you are after their conversation during your so called free reading.
For the record, I make no money from this or any website other than a few cents from adverts which doesn't even cover the domain and hosting costs etc., let alone any contribution to time.  If you are being asked for money, or to register or for any personal information then you have wandered away from the site.
---
---
---
---
The reading you choose will bring answers to your questions about many things including past lives and your present life mission.  It will guide you with matter of the heart and finance or changes in life direction.