---
Spirit Guide Psychic/Spiritual Reading
What do your spirit guides say about your spiritual or psychic path?     Interpreting Card Strength
The cards are shuffled
Choose 3 cards at random, first for the past, 2nd for the present and third for the future. These represents the week's (or days or months) spiritual path, choose at the start when you think of your questions. The combination of these three cards offers a spiritual lesson to contemplate during the time ahead. Ask not "what will the future be for me on my spiritual path?" but rather take a modern focus on empowerment and ask "what can I do to affect my future?" or 'what can I learn from the past?"
Choose 3 cards from the full 78 card deck below for your free archetype psychic reading!
The Past

The Present

The Future

Not Searching for Free Psychic Readings? You will find a search option at the bottom of the page. We have many pages designed to get you exactly where you want to go.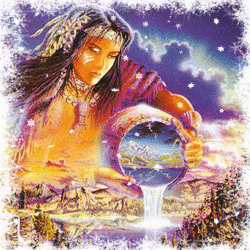 Regardless of whether you are developing your psychic powers or are simply following a spiritual path, you should focus on a very precise question related to your progress before you begin this reading.  What do the archetype cards say about your past, present and future?  Clairvoyants will want to ask their spirit guides to draw close and help them choose the cards.
Experienced clairvoyants are capable of channelling their energy to draw the archetypes that can assist. No archetype card is set in stone and no card has one single meaning. Their guidance allows you to make the right choices for your future.