Our free Love Tarot Readings are 3 card readings with a card for each of the PAST, PRESENT and FUTURE.
We have 5 Tarot Decks to offer you.  Choosing a deck is very much a personal matter, especially where a love reading is concerned.  Many people can intuit something in the pictures of the cards especially in the major arcana card which carry a wealth of meaning and are very different in each deck.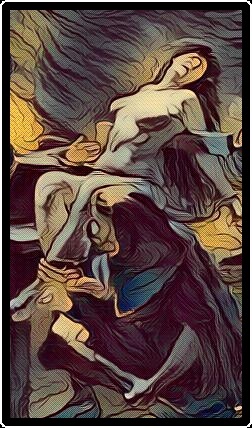 Rider Waite is the trusted deck and the lover card is really well know. The Golden Tarot is another form favorite with it's medieval 'safe' look.  The Mage Deck and the Thoth deck can be a little 'dark' for some tastes but very popular is our new Salem Tarot, the darkest of all.  Perhaps it has more to do those of us who have lost out in love and thus it suits our mood.  Or perhaps some are inclined to think dark though about our love rivals.  Either way, the Salem deck remains the most popular right now.
You will also find our quicker one card free love readings as part of the 6 different type readings, love, health, family, finance, work and spiritual.  These are quite useful for yes or no questions when it comes to love readings.  However, whilst there is a place for them in some instances, I would encourage not to ask such pointed questions as to elicit a yes or no answer.  These are incredibly difficult to deal with online and frankly you may as well consult the crystal ball if that's all you want. Tarot questions should always be more in depth if possible.  Will he hate me forever for what I have?  This example, while sounding simple, is never as simple as it sounds and frankly you would not be very happy even with the answer no!  Basically it says so little about a very complex situation. 
Suppose you had an affair, for example, and then broke up or stayed together in silence. There are aspects of what happened in the past, what is happening now, the present, and what will happen in the future.  All quite complex. Forgiving and forgetting are 2 different things entirely.  This is one of the many things the love tarot reading can guide you on.  Free will plays an important part.  Perhaps the question should be 'how does he feel about me'?  Then the tarot can give you a proper in depth response.