Angel Card Readings have many purposes.  Some like a reading every month and look to the cards to help bring forth the Angels that are closest to them at that point in their lives
Other turn to Angel Card in times of distress or adversity and find that a reading helps to clarify their thoughts and set the energy around then on an even keel.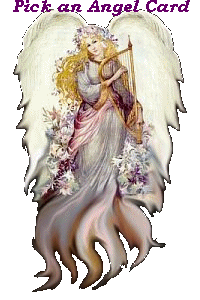 I like to have a question in mind when I do an Angel Card reading for myself.  I find I can always relate the card to the question but the most important thing is the connection and your inner abilities to discern what the angels are telling you and how that relates to your life at this time.
I always suggest we treat Readings from Angel Cards very much like we would our horoscope in other words a bit of fun but we don't take it too seriously certainly not enough to run our lives around.  Having said that it's quite amazing how the cards can bring forth the energy of the given angel and the reading always seems to strike a chord.
1 Card Angel Reading        Past Present Future Reading
Angel Reading for Love and Relationships, past, present and future