This page is part of your health tarot reading with the Rider Waite Tarot Deck. If you are reading this page by accident you may prefer our Spirit guide Quiz or if you looked for The Ace of Wands specifically try The Ace of Wands Rider Waite Tarot Meaning. Love, Luck and Light to all!
Well-Being, Physical Health Or Mental Health:
Card Meanings: Disappointing News, Stopping Something, Infertility, Creative Blocks, Missed Opportunities, Hesitant, Bored, Cancelled Travel, Being Too Intense, Slow, Pregnancy Issues, Lack Of Determination, Delays, Lack Of Initiative/ Passion/ Assertiveness/ Energy/ Enthusiasm/ Motivation/ Growth/ Action/ Spark/ Fun, Setback, Wasted Talent/Potential, Selfishness, Stuck
This is a wonderful high-energy card, promising big breakthroughs and real progress. Expect a day ruled by this card to be full of pleasant and unexpected surprises, nice twists of fates, and quirky happenings. This is a day to be filled up with the wonder and energy of life, a time when you'll find it easy to sail through your work, clear your commitments and really get on top of things. For a special few of us, there will be major steps forward into new areas of life – big changes which lead us toward our heartfelt hopes and dreams. There will be bounty and fortune for some of us.
For others, healing will be the most important matter at hand. Intractable and troublesome illness will fall away, or we will locate new ways of dealing with health matters. This will be a bright fresh happy day. Make sure you enjoy every minute of it!! The Ace of Wands is a symbol of possibility in the area of creativity, excitement, adventure, courage and personal power. In readings, it shows that a seed of bold enthusiasm has been planted in your life although you may not yet recognize it. When the seed sprouts, it could take almost any form. It might be a creative idea, surge of optimism or need to act boldly. On the outside, it could be an offer, gift, opportunity, encounter or synchronistic event. Wands are the suit of individual power and fulfillment. This Ace tells you that a time of passion is beginning. You will be able to assert your best for all to see.

This reading is part of a health tarot reading using the The Ace of Wands using cards from the with the Rider Waite Tarot Deck. You will find many more tarot pages that will be of great help if you need tarot card meanings. Use the search at the bottom of the page. We have some amazing tarot books for you to browse. Please see below.
---
Here are some snippets from a few of my favorite books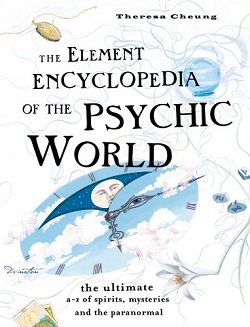 Elements of the Psychic World: Most spirits are thought to be those of humans who have died but not left the earthly plane. They are believed to attach themselves to humans during moments of poor health and emotional weakness. Depossession is typically accomplished by persuading the spirits that they need to leave, and patients subsequently say they feel much better afterwards. Depossession was common practice at the height of the popularity of spiritualism, but the first medically trained person to approach mental illness as caused by spirit possession was the American physician and psychologist Carl
Try our Love Horoscopes: Aquarius and Aquarius Match
Reversed Cards: If you know anything about Reiki, energy work, or the chakras, then you will probably understand why it is truly a good thing to have your Ace of Wands in the protection aspect. Let's face it—sometimes we don't need our center of fire blazing out of control. The third chakra, or solar plexus, in the energetic body is the center of fire. It is located just above the navel and it has two very distinct settings: reactive or active. Think of the Ace of Wands as being contained inside of your stomach. It just sits there giving off a beautiful warm glow. It never gets too hot, and it never overtakes or consumes you. That's the Ace of Wands in the protection aspect. This nice, calm, protective energy lets us reset the body, allowing it to prepare for a new energy that is on its way.
Portable Magic: zodiac sign associated with Temperance in the Golden Dawn correspondences, Sagittarius the Archer. I know that Mathers and others who commented on the Golden Dawn Tarot went to great lengths to justify the link between Temperance and Sagittarius in their writings. Much of what they wrote is plausible and persuasive. Even so, I have never been convinced.
Feel free to drop us a line if you looked for The Ace of Wands Rider Waite Health Tarot Reading and you don't see what you want. We would be glad to help. In the meantime checkout Tarot Reader Portsmouth.
Elements of the Psychic World: A form of divination using cards. The practice of cartomancy is ancient and is often associated with gypsies. It is used to predict the future and interpret the past and present.