Your Chosen Card – Queen of Pattern Upright Mage Deck
Queens are mature nurturing individuals (mother figures) who are responsive to the emotional climate surrounding the querent. They represent important women related to the current situation or significant personality traits needed by the querent to navigate the matter at hand. When upright, the Queen of Pentacles is skilled at taking care of material needs. She may be reminding you to get sufficient exercise, keep the doctor's appointment, or properly attend to your finances. Our natural resources are a gift with which we have been entrusted. This queen is especially fertile and may be pregnant with child or with creative ideas about a new business venture. She will come to your aid when you are in financial need.
Keywords Upright: Good-natured, benevolent, generous, helpful, warm, optimistic, confident, practical, shrewd, down-to-earth, patient, responsible, industrious, hardworking, steadfast, persistent, fertile (symbolized by the rabbit), fond of physical comfort, pregnant, domestic; luxury, material abundance, hospitality, security, wealth, business acumen, management skills, love of nature, enjoyment of sex, the good things in life, a woman of means.
Decans/Timing: 20 Sagittarius to 20 Capricorn. Tropical, 13 December–10 January. Sidereal, 04 January–03 February.
Astrology: Water of Earth. The Queen of Pentacles gives birth to winter at the December solstice in the Northern Hemisphere.
Associated Trumps: Temperance and the Devil.
Rider Waite: The face suggests that of a dark woman, whose qualities might be summed up in the idea of greatness of soul; she has also the serious cast of intelligence; she contemplates her symbol and may see worlds therein. Divinatory Meanings: Greatness of soul, a serious cast of intelligence; opulence, generosity, magnificence, security, liberty; (R) evil, suspicion, suspense, fear, mistrust.
When Queen of Pattern is upright you can pretty much take it that life is going well but that's when life takes us by surprise.  If Queen of Pattern is unclear it may help to choose a card from the Major Arcana to provide more insight into what it is Queen of Pattern is trying to tell you.  If you had a particular issue in  mind, or want to seek clarification on something else, you can also choose again to get more guidance.

This chosen card is part of your upright card reading for Queen of Pattern using cards from the Mage Tarot Deck. You will find many more tarot pages that will be of great help if you need tarot card meanings. Use the search at the bottom of the page. We have some amazing tarot books for you to browse. Please see below.
---
Here are some snippets from a few of my favorite books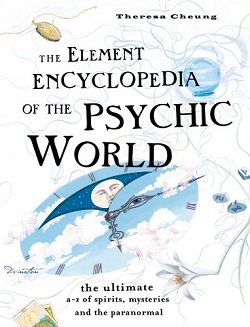 Elements of the Psychic World: A large number of theories have been put forward to explain apparitions, but none explain all the different types. Society for Psychical Research founders Edmund Gurney and Frederick Myers at first believed apparitions were mental hallucinations that had no physical reality either produced by telepathy from the dead to the living or projected out of the percipient's mind in the form of an image. Gurney also believed that collective apparitions were a product of telepathy among the living, projected by
Development for Beginners: Your dreams will rarely provide you with clear-cut messages, such as 'Do not take the 3:05 PM flight to Denver.' But if you pay attention to cues from your environment, then you can typically determine a symbolic response to your question based on the images and happenings in your dream.
Elements of the Psychic World: During World War I the house was turned into a hospital, and in World War II it suffered much damage from bombing raids. Workers found the body of a child walled up in one of the house's chimneys. Today Charlton House is a public library, and employees and visitors have reported hauntings, especially in two rooms on the third floor: the Grand Salon and the Long Gallery, where a rabbit hutch used to be kept.
Do get in touch if you looked for Queen of Pattern and we don't have it listed. We would be more than happy to source the information for you. We hope you visit again for more online tarot information!
Elements of the Psychic World: Despite poor experimental records EVP researchers continue to devote time and energy to finding a way to capture something on tape that proves life after death. In the last decade or so EVP has moved into other media, including TV, video and film cameras and computers. Researchers all over the world have reported images and voices