The Dog is guidance, loyalty and trust
What does dreaming about The Dog mean?
Dreaming of a dog indicates a skill that you have ignored or forgotten, but needs to be activated. Your own values and intentions will enable you to go forward in the world and succeed. If the dog is vicious and/or growling, then it means some inner conflict within yourself.
---
Upright Meanings: results, productivity, master, scholarship, craftsmanship, attention to detail, learning, success, self-employment, trade, financial security, employment, accomplishment, hard work, commitment, money, new job, confidence, rewards, concentration, reputation, building business, dedication, achieving goals, ambition, expertise, quality
The Dog card indicates a time of hard work, commitment, diligence and dedication. The effort you put in will not be in vain as your hard work will pay off and lead to results, rewards or the accomplishment of your goals. When this minor card appears in your reading, it indicates that you are methodically working towards something you want. It may seem boring, mundane or even relentless at the moment but you are on the brink of achieving great success, so don't give up. The skills you are learning at the moment will stand to you later in life and you will come away from this experience not only with the inner wisdom you've gained but with a sense of pride and self-confidence from achieving your ambitions.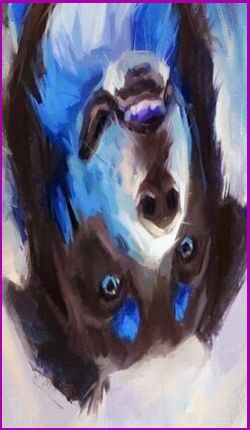 Reversed Meanings: laziness, poor concentration/productivity, failure, debt, dislike, no ambition, dead-end career, bad reputation, shoddy workmanship, rush job, scams, under-qualified, financial insecurity, repetitive or boring job, overspending, workaholic, poor quality, materialistic, mediocrity, void, carelessness, lack of effort/confidence/commitment/ambition/focus, mean
Whether you're in the mood to put your 'nose to the grindstone' or not, The Reversed Dog tells you that in order to be successful and happy in the near future, you are going to have to play your part. Everyone fantasizes about 'get rich schemes,' but the truth is, as they say, there is no free lunch. Do your part. You will be glad that you did.