Your Chosen Card – King of Swords Reversed Golden Deck
When reversed, the Knight of Swords uses his sharp intellect and skill with words heartlessly to inflict harm on others. He may even delight in causing pain in a cruel and exploitative manner. Aggressive and domineering, he enjoys forcefully confronting others in an effort to make them squirm. His measure of justice is 'an eye for an eye, a tooth for a tooth.'
Keywords Reversed: Aggressive, hurtful, pushy, harsh, cold, judgmental, intimidating, obstinate, domineering, cruel, heartless, wicked, devilish, manipulative, exploitative, barbaric, evil, perverse.
Decans/Timing: 20 Capricorn to 20 Aquarius. Tropical, 10 January–09 February. Sidereal, 03 February–04 March.
Astrology: Air of Air. (Notice the clouds, high peaks, blue sky, and the presence of airy butterflies on his throne.)
Associated Trumps: The Devil and the Star.
Mathers: A lawyer, a man of law, power, command, superiority, authority; (R) a wicked man, chagrin, worry, grief, fear, disturbance.
When King of Swords is reversed you can pretty much take it that life is going well but that's when life takes us by surprise.  If King of Swords is unclear it may help to choose a card from the Major Arcana to provide more insight into what it is King of Swords is trying to tell you.  If you had a particular issue in  mind, or want to seek clarification on something else, you can also choose again to get more guidance.

This chosen card is part of your reversed card reading for King of Swords using cards from the Golden Tarot Deck. You will find many more tarot pages that will be of great help if you need tarot card meanings. Use the search at the bottom of the page. We have some amazing tarot books for you to browse. Please see below.
---
Here are some snippets from a few of my favorite books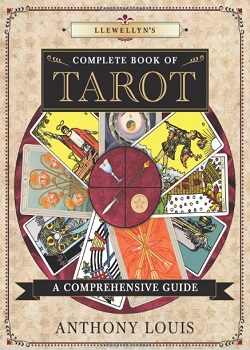 Complete Book of Tarot: Like medicine, tarot is an art. To master any of the arts, the student must learn the basic science and essential skills of the field and put them into practice. Essentially, the tarot cards present a series of images the reader interprets to tell a story. A basic assumption is that the stories we tell ourselves shape our self-image and influence how we conduct out lives. By giving voice to the images on the cards, the tarot reader offers to the querent a narrative to ponder. The importance of giving verbal expression to the sequence of tarot images can be seen in the ideas of the noted linguist Saussure regarding the role of words in everyday life:
Complete Book of Tarot: You should abandon a divination if the cards do not clearly address the querent's concerns.
Complete Book of Tarot: The following suggestions may help beginning tarot students to develop this skill:
Do get in touch if you looked for King of Swords and we don't have it listed. We would be more than happy to source the information for you. We hope you visit again for more online tarot information!
Complete Book of Tarot: The following suggestions may help beginning tarot students to develop this skill: