Your Chosen Card – Prince of Cups Reversed Thoth Deck
When reversed, the seductive Knight of Cups casts his spell so convincingly that you don't realize you are walking about in an illusion. You may think he really cares about you, but in reality he is using his charm for his own ends regardless of how it affects you in the long run. The reversed Knight of Cups is the archetypal Don Juan of classical literature. He will mislead or seduce you into providing him with momentary pleasure. Don't expect a committed relationship. Forewarned is forearmed.
Keywords Reversed: Escapism, illusion, deception, passivity, hedonism, impracticality, fraud, trickery, artifice, seduction, superficiality, boredom, dishonesty, unreliability, breach of confidentiality, mind-expanding drugs; a con artist, a Don Juan; 'wham, bam, thank you, ma'am.'
Decans/Timing: 20 Aquarius–20 Pisces. Tropical, 09 February–10 March; sidereal, 04 March–03 April
Astrology: Fire of Water.
Associated Trumps: The Star and the Moon.
Etteilla: Arrival, approach, entrance, reception, reconciliation; (R) trickery, deceit, cheating, cleverness, lawlessness. (Note that the Knight of receptive Cups approaches whereas the Knight of outgoing Wands departs.)
When Prince of Cups is reversed you can pretty much take it that life is going well but that's when life takes us by surprise.  If Prince of Cups is unclear it may help to choose a card from the Major Arcana to provide more insight into what it is Prince of Cups is trying to tell you.  If you had a particular issue in  mind, or want to seek clarification on something else, you can also choose again to get more guidance.

This chosen card is part of your reversed card reading for Prince of Cups using cards from the Thoth Tarot Deck. You will find many more tarot pages that will be of great help if you need tarot card meanings. Use the search at the bottom of the page. We have some amazing tarot books for you to browse. Please see below.
---
Here are some snippets from a few of my favorite books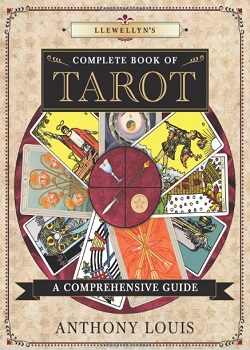 Complete Book of Tarot: The decanate system divides the 360-degree circle of zodiac signs into thirty-six equal parts of 10 degrees each. Each sign consists of three decans. There are twelve signs, so there are 12 x 3 = 36 decans. For thousands of years, astrologers have assigned the visible planets to these decans. Thus, each tarot card numbered from two through ten is associated with a decan as well as with the planet ruling the decan. In his book Mystical Origins of the Tarot, author Paul Huson shows how the decans' esoteric meanings influenced the Golden Dawn's interpretations of the cards.
Complete Book of Tarot: Astrology: The stern taskmaster Saturn in the first decan of watery Pisces, realm of the Knight of Cups (Fire of Water) and the inconstant Moon (Pisces). Saturn is linked to the World.
Complete Book of Tarot: Dinars (gold coins), which became the pragmatic Pentacles, Disks, or Coins of today's tarot.
Do get in touch if you looked for Prince of Cups and we don't have it listed. We would be more than happy to source the information for you. We hope you visit again for more online tarot information!
Complete Book of Tarot: If we invert the Tower card, we get a different view of the situation. Now the rocky terrain is located above the two individuals, and the thunderbolt emerges from the left-hand corner of the card beneath their feet. They do not see the dangerous lightning because they are 'looking up' at the rocks at the top of the reversed card. They are not cognizant of the divine displeasure represented by the thunderbolt beneath them. Thus, they have ignored an important spiritual message and have failed to learn from their difficult circumstances.