Your Chosen Card – Knight of Primordialism Upright Mage Deck
Knights correspond to the element Fire, which suggests action, enterprise, movement, novelty, and excitement coming into your life. When upright, the Knight of Cups approaches with the promise of love, romance, and emotional fulfillment. He is the Prince Charming of fairy tales, who comes to help you explore your feelings. This visionary Knight can show you how to follow your bliss and make your dreams a reality. He can also provide the inspiration to get your creative juices flowing.
Keywords Upright: Calm, graceful, attractive, romantic, imaginative, fanciful, amiable, charming, seductive, emotionally available, touchy-feely; idealism, sensitivity, the arts, creativity, idealism, falling in love, a proposal, an invitation, love affair, an approach, an arrival; a lover, artist, visionary, heart throb, musician, poet, dreamer.
Decans/Timing: 20 Aquarius–20 Pisces. Tropical, 09 February–10 March; sidereal, 04 March–03 April
Astrology: Fire of Water.
Associated Trumps: The Star and the Moon.
Rider Waite: Graceful, but not warlike; riding quietly, wearing a winged helmet, referring to those higher graces of the imagination which sometimes characterize this card. He too is a dreamer, but the images of the side of sense haunt him in his vision. Divinatory Meanings: Arrival, approach – sometimes that of a messenger; advances, proposition, demeanor, invitation, incitement; (R) trickery, artifice, subtlety, swindling, duplicity, fraud.
When Knight of Primordialism is upright you can pretty much take it that life is going well but that's when life takes us by surprise.  If Knight of Primordialism is unclear it may help to choose a card from the Major Arcana to provide more insight into what it is Knight of Primordialism is trying to tell you.  If you had a particular issue in  mind, or want to seek clarification on something else, you can also choose again to get more guidance.

This chosen card is part of your upright card reading for Knight of Primordialism using cards from the Mage Tarot Deck. You will find many more tarot pages that will be of great help if you need tarot card meanings. Use the search at the bottom of the page. We have some amazing tarot books for you to browse. Please see below.
---
Here are some snippets from a few of my favorite books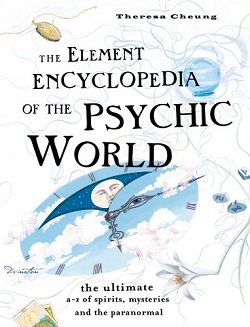 Elements of the Psychic World: Crisis apparitions: usually images that appear in moments of crisis to communicate death or danger. They typically appear to a person who has close emotional ties to the agent (the person who is the source of the apparition).
Development for Beginners: Take note of each and every detail in the scene. What does the person's house look like? What are they wearing? (Try to imagine an outfit that you have seen them in before) What does their phone look like? Gain a clear image of each digit they push on their phone to complete the dialing of your number.
Elements of the Psychic World: Creative visualization is the process by which the creation of a visual image is believed to promote the desired outcome.
Do get in touch if you looked for Knight of Primordialism and we don't have it listed. We would be more than happy to source the information for you. We hope you visit again for more online tarot information!
Elements of the Psychic World: According to the teachings of the Hermetic Order of the Golden Dawn, invisibility is a state attained by establishing an astral and etheric shell – called the 'Shroud of Concealment' – around the body of the magician. The shroud works by distorting the consciousness of those within sight of the magician; while their eyes see an image of his or her presence; their minds are unable to process it and so the magician is not seen.