Not looking for The Princess of Chalices Tarot Card Meanings Salem Deck? You will see a search option at the bottom of the page. We have many pages just to get you precisely where you want to go.
The Princess of Chalices
: Upright Meanings
Sweetness
Interest In Literature
Gentleness
The Princess of Chalices: Reversed Meanings
Poor Imagination
Selfishness
No Desires
The Salem Tarot The Princess's
As people, Princess's often represent young, energetic people who are at the very beginning of their personal journey. They are still developing a sense of self but they approach new challenges with fervent energy and excitement. Princess's look forward to the opportunity of learning and practicing new skills. On a physical level, Princess's can represent young children through to young adults. However, Princess's can also represent those who are young at heart or who are discovering a new aspect of themselves. As events, Princess's are often seen as messengers and come to you with a new opportunity or an invitation. Princess's encourage you to go for it and give you the green light for a new project or initiative. Princess's symbolize a new stage in life.
The Salem Tarot Suit of Chalices
The Suit of Chalices deals with the emotional level of consciousness and is associated with love, feelings, relationships and connections. Chalices are about displays of emotion, expression of feelings and the role of emotions in relation to others. The Chalices Tarot cards indicate that you are thinking with your heart rather than your head, and thus reflect your spontaneous responses and your habitual reactions to situations. Chalices are also linked to creativity, romanticism, fantasy and imagination. The negative aspects of the Suit of Chalices (i.e. when the Chalices cards appear reversed) include being overly emotional or completely disengaged and dispassionate, having unrealistic expectations and fantasising about what could be. There may be repressed emotions, an inability to truly express oneself and a lack of creativity. The Suit of Chalices traditionally represents the west and autumn. If using an ordinary deck of playing cards, Chalices are represented by the Suit of Hearts.
With deep rich colors, subdued by subtle shades of red/orange, the overall look is dark as you would expect from a deck loosely designed to reflect the witch periods of Salem. The Salem Tarot is a deck of magic and destiny. Within its 78 cards lies the souls path from birth to death and beyond. It's uses pagan and medieval imagery and each card has subtle flashbacks to the times of Salem and the witch trials.

Although this page is designed to be viewed individually when you search for Princess of Chalices Salem Tarot Meanings, you will find many more tarot pages that will be of great help if you need tarot card meanings. Use the search at the bottom of the page. We have some amazing tarot books to suggest to you. Please check them out.
---
Here are some snippets from a few of my favorite books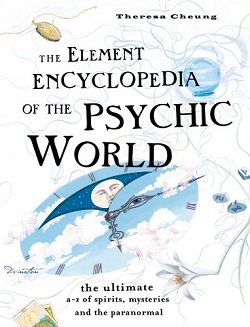 Elements of the Psychic World: Crisis apparitions: usually images that appear in moments of crisis to communicate death or danger. They typically appear to a person who has close emotional ties to the agent (the person who is the source of the apparition).
Development for Beginners: Take note of each and every detail in the scene. What does the person's house look like? What are they wearing? (Try to imagine an outfit that you have seen them in before) What does their phone look like? Gain a clear image of each digit they push on their phone to complete the dialing of your number.
Elements of the Psychic World: Creative visualization is the process by which the creation of a visual image is believed to promote the desired outcome.
Do get in touch if you looked for Princess of Chalices Salem Tarot Meanings and we don't have it listed. We would be more than happy to source the information for you. We hope you visit again for more online tarot information!