Your Chosen Card – The Tower Upright Thoth Deck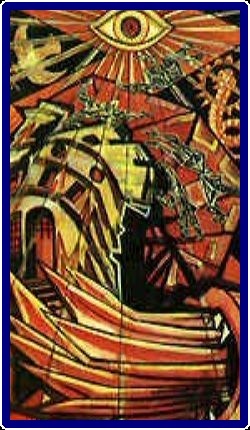 When upright, the Tower suggests that you need to critically evaluate the structures that are confining you or limiting your life. If you don't do so voluntarily, the universe will find a way to force change upon you. Longstanding routines that have been hindering your progress need to be abandoned. Unanticipated changes may at first appear traumatic but in the long run can open the door to renewal. There's an old adage that says every crisis presents an opportunity. Unexpected and sometimes drastic alterations in one's life course are often accompanied by sudden and profound insights into the nature of one's reality and belief system. Concretely, such events may include separation, divorce, job loss, school failure, financial setbacks, an upsetting medical diagnosis, and so on.
Keywords Upright: A bolt from the blue, a sudden revelation, abrupt changes, unexpected news that seizes your attention, disruption, overthrow, upheaval, forced change, a call to action, unanticipated events, sudden enlightenment, liberation from limiting structures, purgation, an opportunity for new growth, purification, the need to act before it is too late.
Key XVI: The Tower
Myths/Archetypes: The Tower of Babel. Thor, the Norse god of lightning. Zeus of the thunderbolt. Buddha under the Bodhi Tree. Hades abducting Persephone.
Astrology: Mars, the god of wars, bloodshed, destruction. (Mars rules Aries and Scorpio)
Numerology: 7 (Chariot) = 1 + 6 (The Tower)
Hebrew letter: Pey or Pe (an open mouth; a Hebrew word meaning mouth, word, vocalization, speech, or the edge of something; also, to speak, blow, or scatter).
When The Tower is upright you can pretty much take it that life is going well but that's when life takes us by surprise.  If The Tower is unclear it may help to choose a card from the Major Arcana to provide more insight into what it is The Tower is trying to tell you.  If you had a particular issue in  mind, or want to seek clarification on something else, you can also choose again to get more guidance.

This chosen card is part of your upright card reading for The Tower using cards from the Thoth Tarot Deck. You will find many more tarot pages that will be of great help if you need tarot card meanings. Use the search at the bottom of the page. We have some amazing tarot books for you to browse. Please see below.
---
Here are some snippets from a few of my favorite books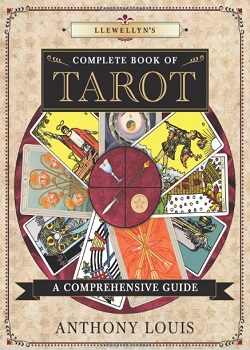 Complete Book of Tarot: Mars, the red planet, is the god of war, bloodshed, and macho masculinity. He is assigned to the Tower, trump XVI. Mars is a planet of assertiveness, strife, conflict, aggression, force, warfare, and domination.
World of Psychics: In the Thoth deck the figure on the Temperance card stands over a large cooking pot, adding the ingredients that will help everything to reach a fulfilling conclusion. She is surrounded by opposites, showing that nothing is impossible and with the right conditions opposites can not only attract but also work well together.
Complete Book of Tarot: The gardener in the Seven of Coins is tending a bush sprouting seven Pentacle-fruits. Some of the fruit looks healthy and delicious, others look discolored and unappetizing. The man seems to be taking a break, perhaps to contemplate his work and decide upon a next move. With this card, the tarot is suggesting that it can help us to reflect on our labors, enabling us to make prudent choices that lead to a productive outcome. A. E. Waite, author of the Rider-Waite-Smith deck, described the young man on this card as viewing the fruits 'as if they were his treasures and that his heart was there,' so maybe the tarot is also saying that it can help us to clarify our heart's desires.
Do get in touch if you looked for The Tower and we don't have it listed. We would be more than happy to source the information for you. We hope you visit again for more online tarot information!
Complete Book of Tarot: The silk cloth myth: always wrap your cards in silk cloth and store them in an oak box with crystals like quartz or amethyst.