This page is part of your finance tarot reading with the Golden Tarot Deck. If you are reading this page by accident you may prefer our Spirit Guide Quiz or if you looked for The Three of Wands specifically try The Three of Wands Golden Tarot Meaning. Love, Luck and Light to all!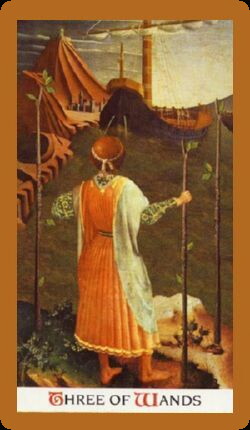 Finance, Money Matters Or Debt:
As with an upright meaning, The reversed Three of Wands can indicate that things will shortly be looking up for you financially. However, this increase will definitely be tied to collaboration and cooperation with others. Don't try to do it all on your own. If you have financial questions, find a good advisor.
Card Meanings: Holding On To The Past, Lack Of Progress/ Adventure/Growth, Arrogance, Moving Home, Failure, Self-Doubt, Carelessness, Restriction, Mistakes, Returning Travels, Lack Of Confidence, Pride, Disappointed With Choices/Outcome, Haunted By The Past, Frustration, Clipped Wings, Lack Of Foresight/ Planning, Failed Long Distance Relationship
When the Three of Wands appears, you are likely to find that your finances are going much better, in fact this can be the month that your proverbial ship has come in. You are likely to be feeling very strong and with good reason. You may be finally experiencing some important success after you've been through some difficulty.

This reading is part of a finance tarot reading using the The Three of Wands using cards from the with the Golden Tarot Deck. You will find many more tarot pages that will be of great help if you need tarot card meanings. Use the search at the bottom of the page. We have some amazing tarot books for you to browse. Please see below.
---
Here are some snippets from a few of my favorite books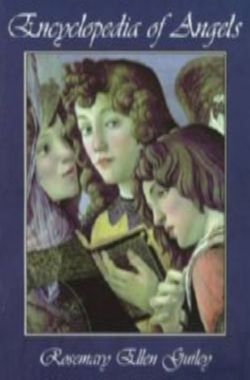 Angel Encyclopedia: One of the FALLEN ANGELS and 72 spirits of SOLOMON. Zagan is a president and king who appears first as a bull with griffin wings and then as a man. He makes men clever and witty. He turns water into wine, blood into oil and oil into water, and wine into water or blood. Zagan can turn any metal into money and can make fools wise. He commands 33 legions.
Try our Love Horoscopes: Scorpio and Capricorn
Creative Tarot: But one cannot always be off on an adventure and expect to get any real work done. If you are always off chasing that glimmering thing on the horizon, you'll never find the focus needed to see a project through from beginning to end. Even Burton himself didn't complete his greatest works until he settled down in a house with a wife and furniture and kitchen cabinets. If the Three of Wands seems familiar to you, you might want to make sure it's not your default setting to run away every time responsibility comes calling. Sometimes settling down, turning away from your ever-present curiosity, is the brave thing to do.
Tarot Triumphs: For each of the three main types of Tarot readings in this book—the three-card reading in chapter four, the seven-card Celtic Cross layout here, and the full Fool's Mirror layout using all twenty-two Trumps in chapter seven—I give a separate account of the process of laying out the cards. This is partly because there are slight variations for each layout, but also so that we can go further into the nuances of the reading method as we progress from a simple to a more complex type of spread. In the full exposition of the Fool's Mirror layout that follows this chapter, for instance, you will find more detailed instructions on how to begin and end the reading, and more debate about the ethics of Tarot reading in chapter eight. Once we have covered all three layouts, we reach a point too where we can vary the approach if we wish. Card reading is a form of ritual, and, as such, it needs structure; but the guidelines for this act as a template, not a straitjacket. They can be adapted to different circumstances. The important factor in the Fool's Mirror approach to divination is to have insight into why certain methods and practices are used; that way, we can alter them if appropriate.
Feel free to drop us a line if you looked for The Three of Wands Golden Finance Tarot Reading and you don't see what you want. We would be glad to help. In the meantime checkout Pathway to Spirit.
Reversed Cards: In the upright version of this card, we get to see Venus strut her stuff in the garden of abundance. Yet here in the retrograde aspect with her influence waning, it is not uncommon to question the results you see before you. The clue to how you really feel about all your hard work lies in the cards that came before this one. If they seem upbeat and positive, then congratulations, you have allowed yourself some success. If, however, they have a heaviness and denser energy about them, then perhaps the path you took to get to your garden wasn't the best choice.