This page is part of your finance tarot reading with the Rider Waite Tarot Deck. If you are reading this page by accident you may prefer our Spirit guide Quiz or if you looked for The Star specifically try The Star Rider Waite Tarot Meaning. Love, Luck and Light to all!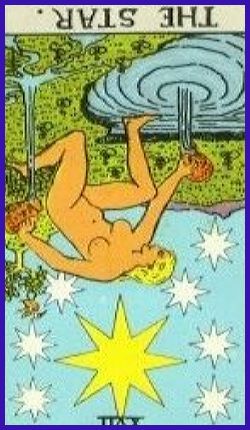 Finance, Money Matters Or Debt:
In general this is still a positive omen when reversed, but as with the other contexts, it is very important that you consider what, if any changes, may need to be made in order for you to reach your goals. You may discover that you are already on the right track, but also check to see if your goals have changed since you originally made your plans. If you don't have a financial plan, make one!
Card Meanings: Lack Of Faith, Broken Dreams, Focusing On The Negative, Disappointment, Boredom, Bad Luck, Hopelessness, Imbalance, Lack Of Creativity, Despair, Lack Of Inspiration
This card is the best one in the entire deck, in my opinion. It marks a point where fortune smiles upon us, lighting up our dreams, hopes and wishes with the promise of fulfilment and manifestation. This card always marks a turning point, where positive energy flows into life in a swift-running stream. All that is left for us to do is to open ourselves to the remarkable powers which are always present when this card appears. Times like this one make miracles in life. We can attune with the powers of the Universe more easily now than at most other times. We can reach out and touch whatever it is that we call God or Goddess, and welcome their presence and might in our lives.
On a day ruled by this card, dream the best way you know how to….and realise that your dreams stand a greater chance of coming true than at any other time. Wish your wishes ….and fill them up with as much hope and light as you can possibly manage. Then be glad to be alive on a day like this. In readings, the Star is most welcome when grief and despair have overwhelmed us. In our darkest moments, we need to know that there is hope,that there is light at the end of the tunnel. The Star is the opposite of the Devil who strips us of our faith in the future. Card 17 holds out the promise that we can eventually find peace of mind. The Star also reminds us to open our heart and release our fears and doubt. If you have been holding back in any way, now is the time to give generously.

This reading is part of a finance tarot reading using the The Star using cards from the with the Rider Waite Tarot Deck. You will find many more tarot pages that will be of great help if you need tarot card meanings. Use the search at the bottom of the page. We have some amazing tarot books for you to browse. Please see below.
---
Here are some snippets from a few of my favorite books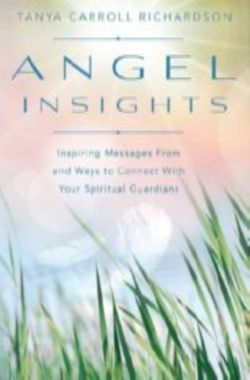 Angel Insights : Next, tell Archangel Michael how you hope cutting the cord will help. Maybe you hope cutting any cords with poverty will help you get better at managing money, help you psychically break out of a cycle of poverty that has been part of your family's history for generations and may be subconsciously affecting your decisions around money, and encourage you to go back to school for a better-paying job. Maybe you hope cutting the cord between you and your ex will help you heal from the hurt that happened during the relationship and really work through your emotions, energetically help you attract a new partner, and enable you to trust potential new partners more. Maybe you hope cutting the cord that represents the fight you had with your friend will bring you two closer together, allow you to forgive each other, and help you respect each other's opinions and emotions more.
Try our Love Horoscopes: Capricorn and Virgo
Development for Beginners: A good way to start developing your telepathic skills, which will also provide you with more immediate proof of results, is to practice communicating telepathically with people in service positions, for example, the waiters and waitresses in a restaurant.
Tarot for Beginners: If you want to explore the Tarot for yourself, it's ideal to have your own deck, some time to set aside, and a good space for practicing this fascinating form of divination.
Feel free to drop us a line if you looked for The Star Rider Waite Finance Tarot Reading and you don't see what you want. We would be glad to help. In the meantime checkout The Angel of Discernment Angel Card.
Development for Beginners: Needless to say, my legume staring contests were incredibly anti-climatic. Yep, every last one of those beady little broccoli florets just sat there on my plate staring back at me, defiantly unresponsive to the power of my mental faculties. But for me, that's where it all started – with an avid interest, some hearty determination, and a strong dislike of leafy greens.