This page is part of your finance tarot reading with the Golden Tarot Deck. If you are reading this page by accident you may prefer our Spirit Guide Quiz or if you looked for The Chariot specifically try The Chariot Golden Tarot Meaning. Love, Luck and Light to all!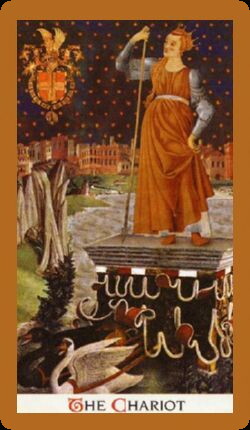 Finance, Money Matters Or Debt:
You may be feeling a great deal of energy toward getting things accomplished and improving your financial lot in life. There is nothing wrong with this, however receiving this card in reversal can indicate a need to slow down and solicit at least one or two more opinions about your planned course of action. Remember the iron-clad rule: if something seems too good to be true, it IS too good to be true. Be prudent.
Card Meanings: Lack Of Direction, Unsuccessful, Lack Of Self-Control, Coercion, Aggression, Vanquishment, Failure, Forcefulness, Defeat, Powerlessness
The Chariot indicates a lot of energy but not free-for-all energy. It's directed, controlled, and has a goal in mind. When this card appears you are likely to be fairly clear on what your hopes and dreams involve and what you are willing to do to make them come true.

This reading is part of a finance tarot reading using the The Chariot using cards from the with the Golden Tarot Deck. You will find many more tarot pages that will be of great help if you need tarot card meanings. Use the search at the bottom of the page. We have some amazing tarot books for you to browse. Please see below.
---
Here are some snippets from a few of my favorite books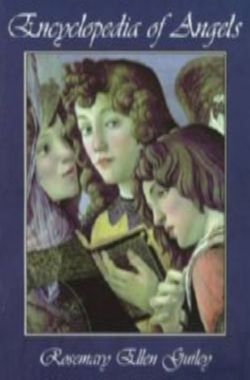 Angel Encyclopedia: One of the FALLEN ANGELS and 72 spirits of SOLOMON. Shax is a marquis who comes in the form of a stork and speaks with a hoarse voice. He destroys the eyesight, hearing, and understanding of any person upon command. He steals money from kings and then returns it in 1,200 years. After he is commanded into the magician's triangle, Shax will transport anything; otherwise, he will be deceptive. Upon command he will steal horses. He will find all hidden things unless they are being kept by evil spirits. He gives good FAMILIARS. He commands 30 legions.
Try our Love Horoscopes: Aries and Aquarius Match
Angel Encyclopedia: In contrast to Helios, the god of light, and the devil, god of darkness, Abraxas appears as the supreme power of being in whom light and darkness are both united and transcended. He is also defined as the principle of irresistible activity and is a close approximation of an active manifestation of the Pleroma. Gnostic talismans bearing the figure of Abraxas were saved because they were carved into valuable stones, usually oval. They show a figure with a human body, the head of a rooster (or more seldom of a hawk), and legs fashioned like serpents. The god's hands hold a shield and a whip, the shield usually inscribed with the name IAO, reminiscent of the Jewish four-letter name of God. He is often mounted on a chariot drawn by four white horses, with both sun and moon, gold and silver, masculine and feminine overhead.
Creative Tarot: The images of the tarot hew closely to images from fairy tales, from the kings and queens and knights to Rapunzel's tower. The Five of Coins could be retold as "The Little Match Girl," the King of Coins could be related as the story of King Midas, and so on.
Feel free to drop us a line if you looked for The Chariot Golden Finance Tarot Reading and you don't see what you want. We would be glad to help. In the meantime checkout The Guardian Angel Mahasiah Angel Card.
Angel Encyclopedia: In 3 ENOCH, Rikbiel rules the eight wheels (galgalim) of the chariot of the throne of Glory. There are two wheels for each direction, and they are enclosed by the four winds: Storm, Tempest, Hurricane, and Gale. Four rivers flow out beneath them and four clouds encircle them: the Clouds of Fire, Clouds of Firebrand, Clouds of Glowing Coal, and Clouds of Brimstone. The movement of the wheels creates earthquake roars and thunder rumbling. When the time comes to recite the Qedussah, the wheels tremble and angels writhe in agony. Voices issue forth from beside the wheels.