One Card Major Arcana Reading (Rider Waite Deck)
Select one card then click it once it turns over.
)

General Meanings Major Arcana
Major Arcana cards show up when things are happening that pull us towards a certain destiny or path. Many Major Arcana cards in a reading is often a sign that our Spirit Guides and Angels are working behind the scenes to set everything up for us so that we can live the lives we are destined to live. While the Minor Arcana cards focus on the everyday actions and decisions you must face, these Major Arcana cards reveal messages about the bigger picture of your life and its long-term direction. A major arcana card represents an energy that is deep, strong, decisive or long-term. When a major arcana card appears in a reading, you have tapped into a powerful energy in some area of your life. The minor arcana cards do not carry the same weight, but they are still important. They chart the ups and downs of daily life and register changes in feelings and thoughts. These dramas are gripping while they occur, but they pass with time as new concerns take their place.
Energies connected: Major Arcana
The major arcana are signposts to things, events, and people, that are meant to be taken more seriously and looked at more closely, in general, than the minor arcana cards will generally represent.
About the Rider Waite Tarot Deck
The Original Rider Waite Tarot Deck is the most popular and widely used tarot card deck in the world, printed from plates that were destroyed during the bombing of London during World War II. Full of symbolism and deeper meanings, Arthur E. Waite, the intellectual father of the Rider Waite deck, commented that 'the true Tarot is symbolism; it speaks no other language and offers no other signs.'

This free daily tarot is part of a one card reading with major arcana cards from the Rider Waite Tarot Deck. You will find many more tarot pages that will be of great help if you need tarot card meanings. Use the search at the bottom of the page. We have some amazing tarot books for you to browse. Please see below.
---
Here are some snippets from a few of my favorite books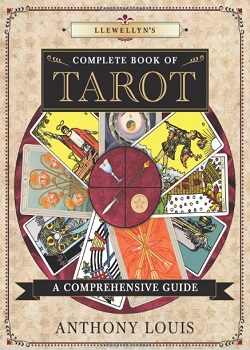 Complete Book of Tarot: Waite (1911): A hoodwinked female figure balances two swords upon her shoulders. Divinatory Meanings: Conformity and the equipoise which it suggests, courage, friendship, concord in a state of arms; another reading gives tenderness, affection, intimacy. The suggestion of harmony and other favorable readings must be considered in a qualified manner, as Swords generally are not symbolical of beneficent forces in human affairs. (R) Imposture, falsehood, duplicity, disloyalty.
Complete Book of Tarot: The element Earth has no major arcana card assigned to it, perhaps because it represents the entire material universe in which we learn the lessons of the major arcana.
Tarot Triumphs: The Fool's Mirror diviner is willing to use all the cards in the Major Arcana when the context is appropriate. The twenty-two Trumps are an entity, just as all the signs of the zodiac are contained in an astrological horoscope. They each have their part to play in forming the picture of the moment. It is the way they are arranged that defines what that picture may be.
Do get in touch if you looked for One Card Major Arcana Reading with the Rider Waite Tarot Deck and we don't have it listed. We would be more than happy to source the information for you. We hope you visit again for more online tarot information!
Development for Beginners: The only way to verify the accuracy of the blind reading would be to wait until after the fact (hindsight is 20-20) to see if your meeting would end up conflicting with your departure date.