What do reversed cards/card strength mean?
Michael is the warrior whose light triumphs over the darkness of negativity. He is depicted carrying scales to weigh the souls on Judgement Day, as well as a sword to subdue Satan and the powers of darkness. He is seen slaying the dragon. The legend of St George derives directly from him.
Belonging to the REALM: Heaven of Form , The Archangel Michael is in the group known as Archangels.
ANGELIC FUNCTION: Commander-in-chief of the Heavenly Armies
GIFTS FOR THE EARTH: He can help us to stand strong in the face of adversity; resolve our personal negativities; find strength when we are alone or feeling like outsiders
Michael's name translates from the Hebrew as 'Look Like God'. He is the Archangel we invoke in our battle against negativity. He helps us find the light within ourselves. Historically he is the protector of both Israel and the Catholic Church. He is the patron saint of policemen, soldiers and small children and also watches over pilgrims and strangers. He is the fiery warrior, Prince of the Heavenly Armies, who fights for right and justice and gives guidance to all those who find themselves in dire straits. Michael is also the bringer of patience and happiness.
He is associated with the element of fire, which symbolizes the burning away of what is transient so that only the pure and essential light may shine forth. He is called the benevolent Angel of Death because he brings us deliverance and immortality. He is the Angel of the Final Reckoning and Weigher of Souls.
Michael is considered the greatest of all angels in the Jewish, Christian and Islamic religions. He is known variously as Holder of the Keys of Heaven and Chief of the Archangels, Prince of the Presence, Angel of Repentance, Righteousness, Mercy and Sanctification, Angelic Prince of Israel, Guardian of Jacob, and Angel of the Burning Bush. He is a tireless champion of good, and always supports the underdog. Michael rules over the lonely struggler; he is always lending a hand to help alleviate strife and trouble.
We can pray to Michael to help us conquer our negativity. Whenever we become stuck he can assist us in lifting our spirit towards a more enduring vision of life. He is there to guide and protect us against injustice and to help us open ourselves to what is eternal and lasting. We can ask him to help us in any situation where we feel overwhelmed or alone and in need of support.
---
Here are some snippets from a few of my favorite books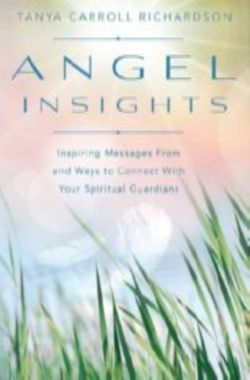 Angel Insights
Book DetailsAngel Insights : At any point during this exercise, don't be alarmed if you feel a significant presence near you or feel the energy of the room shift. That is just Archangel Michael answering your call—if you are sensitive to energy you will definitely feel his significant presence!
Elements of the Psychic World: Today angels have made a comeback in popularity, due in part to a widespread spiritual hunger for supernatural assurance and guidance. Some people consider the appearance of a spirit of the dead, such as a family member, to be an angel that comes to warn or comfort them. In deathbed visions the souls of dead friends and family members who come to help the dying person are often believed to be angels. Many people still claim to experience angelic visions, especially those who have gone through near-death experiences, and in many such accounts an angel greets them at the threshold of death. Angels are most often sensed through clairaudience. They sometimes manifest as balls of brilliant white light or appear as real persons in a mysterious encounter with a stranger. These encounters often occur when a person is in crisis and needs decisive action. A mysterious, calm but firm stranger who is knowledgeable about the crisis appears out of nowhere and offers a solution. Once the problem has been solved the person vanishes. It is the abrupt and strange disappearance that makes people wonder whether they have been helped by a human or an angel. Famous examples of reported angel encounters include those of George Washington, who suggested that angels helped him during the Delaware crossing of 1776, and the composer Handel, who believed angels
Elements of the Psychic World: In other words she heard voices when no visible person was there. At first she was alarmed, but in time she grew to trust the voices as they seemed to have her best interests at heart, telling her often that she 'must be a good girl and go often to church'. Then she began to have visions of St Michael, St Catherine and St Margaret and was told about her divine mission to help the Dauphin, the future Charles VII, regain the throne of France from the English.
Do get in touch if you need more information about Archangel Michael and we don't have it. We would be more than happy to source the information for you. We hope you visit again for another angel reading!
Angel Insights : Your guardian angels will never abandon you, never forsake you, never punish you, never judge you. This knowledge can be very comforting for those who were abandoned or abused either as a child or an adult, and for these people I believe it is especially healing to develop greater communication with, and a closer bond to, their guardian angels.