Not looking for The Goddess of Athames Tarot Card Meanings Salem Deck? You will see a search option at the bottom of the page. We have many pages just to get you precisely where you want to go.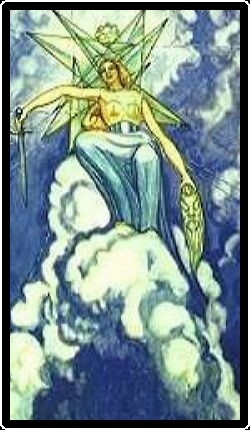 The Goddess of Athames
: Upright Meanings
Skillful
Brave
Clever
Rush
The Goddess of Athames: Reversed Meanings
The Salem Tarot The Goddess's
The Goddess's are the feminine counterparts of the Kings. They are also a reflection or a certain aspect of the Empress. These cards are very strong and have a weight in a reading that is naturally superior to a page or knight for instance. Just like the Kings, they can become threatening when reversed. But even head up, they're more complex and contrasted than the Kings. Mostly because in the Middle-Ages, women were not only considered inferior to men, they were always a possible danger. These aspects can be used or not in a reading depending on your culture, background but above all, the energy of the session you're in.
The Salem Tarot Suit of Athames
The Suit of Athames is associated with action, change, force, power, oppression, ambition, courage and conflict. Action can be both constructive and/or destructive, sometimes resulting in violence. This suit can also mean hatred, battle, and enemies, and of all the suits, this one is considered to be the most powerful and dangerous. The Suit of Athames deals with the mental level of consciousness that is centred around the mind and the intellect. Athames mirror the quality of mind present in your thoughts, attitudes, and beliefs. Athames themselves are double-edged and in this way the Suit of Athames symbolises the fine balance between intellect and power and how these two elements can be used for good or evil. As such, the Athames must be balanced by spirit (Wands) and feeling (Chalices). The negative aspects of the Suit of Athames (i.e. when the Athames cards appear reversed) include anger, guilt, harsh judgement, a lack of compassion and verbal and mental abuse.
With deep rich colors, subdued by subtle shades of red/orange, the overall look is dark as you would expect from a deck loosely designed to reflect the witch periods of Salem. The Salem Tarot is a deck of magic and destiny. Within its 78 cards lies the souls path from birth to death and beyond. It's uses pagan and medieval imagery and each card has subtle flashbacks to the times of Salem and the witch trials.

Although this page is designed to be viewed individually when you search for Goddess of Athames Salem Tarot Meanings, you will find many more tarot pages that will be of great help if you need tarot card meanings. Use the search at the bottom of the page. We have some amazing tarot books to suggest to you. Please check them out.
---
Here are some snippets from a few of my favorite books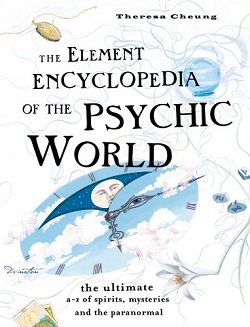 Elements of the Psychic World: A few days after a last experiment with Kluski in Warsaw Geley died in an aeroplane accident on 15 July 1924. Twenty-five years after his death an article by R Lambert accusing Geley of fraud appeared in the Journal of the Society for Psychical Research. Geley's reputation has been damaged ever since, but despite this his work is considered by many to mark a milestone in psychical research.
Development for Beginners: The Oracle at Delphi continued to prosper until the 1st century B.C. At which time it suffered significant damages due to earthquakes, looting, and barbarian invasions. Soon thereafter, the surrounding area became highly impoverished.
Elements of the Psychic World: Details vary widely but most initiations in magical lodges start by secluding the initiate to create a space physically and magically for the ceremony. The candidate usually blindfolded before being brought to the sacred space and left to wander around in circles, sometimes bumping into things, to create a heightened state of awareness. While in this state the candidate is taken through teachings, with the blindfold raised at significant moments to reveal important images. At some point during this process the candidate takes an oath binding him or
Do get in touch if you looked for Goddess of Athames Salem Tarot Meanings and we don't have it listed. We would be more than happy to source the information for you. We hope you visit again for more online tarot information!