Your Chosen Card – Ten of Swords Upright Thoth Deck
When upright, the Ten of Swords indicates that you have reached the end of a period of anguish and suffering and are ready to move on. You have hit bottom and things cannot get any worse. It's one of those times in your life when you come to understand that you were never promised a rose garden. Circumstances are forcing you to confront a problem that has been brewing for some time, and the only way forward is up. The rising sun in the background implies that there is hope of a solution; you are at the dawn of a new day. Release and liberation from suffering are at hand. Since Swords represent ideas and communications, problems created by misinformation can be resolved at this time.
Keywords Upright: a final ending, fresh hope, new horizons, release, liberation, the darkness before the dawn, the end of a bad situation, things can't get any worse, the end of a cycle, success but at a great price, being forced to confront a problem that has been brewing for some time, starting over, a new day is dawning.
Timing: 20 Gemini–30 Gemini. Tropical, 10 June–20 June. Sidereal, 6 July–15 July.
Astrology: The hot dry Sun in the third decan of airy Gemini, realm of the Queen of Cups (Water of Water) and the Lovers (Gemini).
Number Symbolism: 10 – one too many, the fullness of completion, readiness to begin a new cycle.
Crowley/Thoth: Ruin, reason divorced from reality, the airy energy of Swords used disruptively, the logic of insanity.
When Ten of Swords is upright you can pretty much take it that life is going well but that's when life takes us by surprise.  If Ten of Swords is unclear it may help to choose a card from the Major Arcana to provide more insight into what it is Ten of Swords is trying to tell you.  If you had a particular issue in  mind, or want to seek clarification on something else, you can also choose again to get more guidance.

This chosen card is part of your upright card reading for Ten of Swords using cards from the Thoth Tarot Deck. You will find many more tarot pages that will be of great help if you need tarot card meanings. Use the search at the bottom of the page. We have some amazing tarot books for you to browse. Please see below.
---
Here are some snippets from a few of my favorite books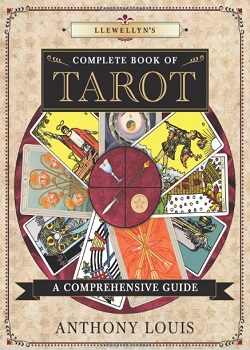 Complete Book of Tarot: The Ten of Cups (Water, cold + wet) is flanked by a Wand (Fire, hot + dry) on the left and a Sword (Air, hot + wet) on the right. The 'dry' of the Wand cancels the 'wet' of the Sword, leaving two excess 'hots' surrounding the central card. These two excess 'hots' cancel the 'cold' of the Ten of Cups, leaving 'hot + wet' in the center of the triplet. The result is that the Ten of Cups now behaves more like the Ten of Swords (hot + wet) so that the normal pleasure of the Ten of Cups becomes painful to achieve (Ten of Swords). In other words, the Ten of Cups retains its essential happy meaning but the pain and suffering of Swords (hot + wet) modifies that happiness.
Creative Tarot: Then there was a difficult time. Financially, ambitiously, professionally, romantically, socially. You know those times in your life when you realize that every single thing you had going for you had decided to flee at the same time? It was that. In a fit of exasperation, a friend—one who'd had to drag me out of bars by my hair to keep me away from terrible men, grab glasses of whiskey out of my hand, and hand me tissues when I started crying in public yet again—booked me a session with her own tarot reader. "You need to get it together" I think was how she framed it.
Complete Book of Tarot: Charging money for readings. A tarot reader provides a service and deserves to be paid a reasonable fee for a job well done. It is important to be upfront about the nature of the service you are offering and inform clients what a card reading can and cannot do. It is unethical to use the cards to frighten clients into giving you large sums of money for which you promise to 'remove a curse' or 'cast a spell' to change their lives. Your job is to empower clients to make their own decisions and to change their own lives. Whatever you say or do as a tarot reader should be, first and foremost, for the benefit of the querent rather than for personal gain.
Do get in touch if you looked for Ten of Swords and we don't have it listed. We would be more than happy to source the information for you. We hope you visit again for more online tarot information!
Tarot Triumphs: From these questions, you can see how a short foray into contemplating just three of the Tarot cards provides a colorful, varied, and detailed view of how they can interact. Three isn't said to be the creative number of the universe for nothing. I suggest that you try the same process. You can vary the order of the questions if you need to, though it's easier to start off with similarities and differences to get a handle on the lineup of cards.