Your Chosen Card – Two of Swords Upright Rider Waite Deck
When upright, the Two of Swords suggests that your inner state is calm and finely balanced. You are able to review your options and take reasoned decisions against a backdrop of changing circumstances and varying emotions. If you've had differences with others, you can see the value in resolving differences and burying the hatchet. This state of peace and self-possession characterizes the rapport you feel with your closest friends. True friendship is based on the tender and honest balancing of the needs, wishes, and feelings of both parties.
Keywords Upright: Peace, true friendship, rapport, composure, intimacy, tranquility, concord, tenderness, masterful self-possession, burying the hatchet, resolving differences, balancing viewpoints, making a difficult decision, looking for answers within, perfectly balanced forces, self-regulation in the expression of impulses and desires.
Timing: 0 Libra–10 Libra. Tropical, 23 September–2 October. Sidereal, 17 October–26 October.
Astrology: The emotional and inconstant Moon in the first decan of airy Libra, realm of the Queen of Swords (Water of Air) and Justice (Libra). The Moon is linked to the High Priestess. The airy Queen of Swords gives birth to the season of autumn at the start of Libra.
Number Symbolism: 2 – duality, partnership, choice, decision, balance, gestation.
Rider Waite: A hoodwinked female figure balances two swords upon her shoulders. Divinatory Meanings: Conformity and the equipoise which it suggests, courage, friendship, concord in a state of arms; another reading gives tenderness, affection, intimacy. The suggestion of harmony and other favorable readings must be considered in a qualified manner, as Swords generally are not symbolical of beneficent forces in human affairs. (R) Imposture, falsehood, duplicity, disloyalty.
When Two of Swords is upright you can pretty much take it that life is going well but that's when life takes us by surprise.  If Two of Swords is unclear it may help to choose a card from the Major Arcana to provide more insight into what it is Two of Swords is trying to tell you.  If you had a particular issue in  mind, or want to seek clarification on something else, you can also choose again to get more guidance.

This chosen card is part of your upright card reading for Two of Swords using cards from the Rider Waite Tarot Deck. You will find many more tarot pages that will be of great help if you need tarot card meanings. Use the search at the bottom of the page. We have some amazing tarot books for you to browse. Please see below.
---
Here are some snippets from a few of my favorite books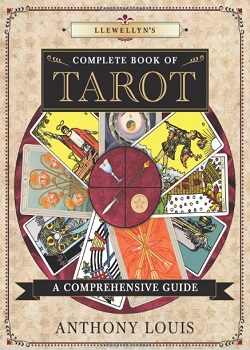 Complete Book of Tarot: In this card, a woman sits blindfolded on the shore of a body of water. She holds aloft two swords, evenly balanced. Above her hangs a crescent moon, symbolizing her changing emotional state. She may be trying to resolve conflicting feelings or attempting to choose between evenly matched options, represented by the dual swords. The tarot appears to be saying that it can help us to sort out our feelings, clarify our choices, and assist us in making more reasoned decisions. The eighteenth-century French occultist who popularized tarot, Etteilla, considered the Two of Swords as a card of rapport and affection, so the tarot may be also saying that it can bring new friendships into our lives.
Creative Tarot: Ever since those sixteenth-century Venetian sonnets mentioned before, artists and writers have been drawn to the tarot, have written about it and pulled from the imagery for their own work. Some were so taken with the experience of reading tarot that they dedicated themselves to constructing entirely new decks.
Complete Book of Tarot: Myth 13: Some tarot cards are really very 'good' and others are really very 'evil.'
Do get in touch if you looked for Two of Swords and we don't have it listed. We would be more than happy to source the information for you. We hope you visit again for more online tarot information!
Tarot Triumphs: Tarot cards have been shaped by generations of human imagination and have acquired their own unique mystical and magnetic presence. We do not know exactly how and why they emerged, but they have certainly come to represent a kind of magical heritage. For hundreds of years, people have pondered the cards, read fortunes, and played games with them; they have recreated and varied the images and gleaned insights from them. Whether or not there was one person who invented the pack to start with, the human psyche, or 'common mind,' has done its work. If there was ever a single original pack, it has been altered, smoothed, honed, and tested over the centuries. We only need to think of the different artists and engravers working on all the different packs, creating their own version of the designs, each interpretation maybe just a little different from the last. Imagine, too, all those generations of colorists applying bright brushstrokes to the woodblock outlines, painting with intense concentration in humble ateliers to bring the cards into their full glory. Each of them may have dreamed about the cards in their own way and applied the colors just a little more inventively to leave their personal mark.1 And then we can recall the wide range of people who have used Tarot: nobles, common folk, merchants, gypsies, and travelers, all with their packs for game-playing, gambling, fortune-telling, and perhaps also for deeper reflection. Through all these hands the Tarot has passed, gathering meaning, accumulating the hopes and wishes of those who use it, triggering the imagination, and acting as a pathway to unseen worlds.