Your Chosen Card – Eight of Wands Reversed Golden Deck
When reversed, the Eight of Wands warns that 'haste makes waste.' You may be moving too quickly in a risky or uncontrolled fashion. Alternatively you may be plagued by doubts and hesitation and thus unable to proceed at a proper pace. Be sure to consider the potential consequences of your actions before rushing ahead impulsively. Is it wise to be in such a hurry to get things done? Travel plans may be disrupted or delayed. A love affair may take an unexpected turn.
Keywords Reversed: Doubt, hesitation, travel difficulties, a disrupted flight, delayed messages, haste makes waste, precipitous action, taking unnecessary risks, feeling up in the air, uncontrolled acceleration, the stings of conscience.
Timing: 0 Sagittarius–10 Sagittarius. Tropical, 23 November–2 December. Sidereal, 16 December–24 December.
Astrology: Quick and clever Mercury (debilitated) in the first decan of fiery Sagittarius, realm of the Prince of Wands (Fire of Fire) and Temperance (Sagittarius). Mercury is linked to the Magician.
Number Symbolism: 8 – movement, action, power, determination.
Mathers: Understanding, observation, direction; (R) quarrels, domestic strife, internal disputes, discord, a troubled conscience.
When Eight of Wands is reversed you can pretty much take it that life is going well but that's when life takes us by surprise.  If Eight of Wands is unclear it may help to choose a card from the Major Arcana to provide more insight into what it is Eight of Wands is trying to tell you.  If you had a particular issue in  mind, or want to seek clarification on something else, you can also choose again to get more guidance.

This chosen card is part of your reversed card reading for Eight of Wands using cards from the Golden Tarot Deck. You will find many more tarot pages that will be of great help if you need tarot card meanings. Use the search at the bottom of the page. We have some amazing tarot books for you to browse. Please see below.
---
Here are some snippets from a few of my favorite books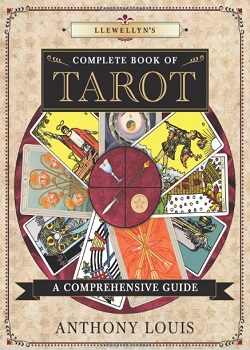 Complete Book of Tarot: Fact 13: All tarot cards are neutral; they merely present universal archetypal images that are part of the human experience. The 'goodness' or 'badness' of a card depends entirely on what we choose to do with the energy represented. Yin is balanced by yang; every positive in life has its shadow side, and vice versa. A knife in the hands of a surgeon can save a life, but the same knife wielded by a terrorist can wreak havoc. A Zen Buddhist proverb illustrates this idea: A farmer's horse ran off, prompting the neighbors to lament, 'That's bad.' The next day the horse returned along with three wild horses, and the neighbors declared, 'That's good.' When the farmer's son broke his leg trying to tame the wild horses, the neighbors commented, 'That's bad.' The next day, the army came to draft the farmer's son for an impending battle but because of his broken leg, they didn't draft him. It so happened that all the soldiers who fought in the battle died, but the son survived because of his fractured limb. This time the neighbors kept silent. They had learned the futility of judging situations in terms of black and white, good and bad.
Complete Book of Tarot: Myth(s) 9: One must follow certain rules and rituals regarding the acquisition, handling, and storage of the cards. Various myths fall under this heading, including admonitions such as:
Complete Book of Tarot: Tarot readers possess the language of symbolism. The language of tarot is rooted in the symbols of mythology, dreams, biblical stories, religion, poetry, literature, music, depth psychology, personal experience, the collective unconscious, and various esoteric traditions (astrology, Kabbalah, numerology, alchemy, ceremonial magic, etc.). Arthur E. Waite, the intellectual father of the Waite-Smith deck, commented that 'the true Tarot is symbolism; it speaks no other language and offers no other signs.' 22 In this sense, questioning by means of the tarot differs from the questioning done by science, which relies on the language of mathematics to make its inquiries. The bulk of this text is devoted to exploring the symbolic language of tarot.
Do get in touch if you looked for Eight of Wands and we don't have it listed. We would be more than happy to source the information for you. We hope you visit again for more online tarot information!
Tarot Triumphs: Our first reading will use just three cards, after a look at the preliminaries of setting up a Tarot reading.