Not looking for The Seven of Wands Tarot Card Meanings Thoth Deck? You will see a search option at the bottom of the page. We have many pages just to get you precisely where you want to go.
The Seven of Wands
: Upright Meanings
Stiff Competition
Victory
Courage
Energy
The Seven of Wands: Reversed Meanings
Advantage
Patience
Indecision
The Thoth Tarot The Seven's
Sevens awaken desire within us. We all understand that there is a higher purpose to existence. Sevens dangle this in front of you, tempting you to pursue a goal, to follow your dream. Sevens know that in the process of doing so, you could become all that you can be and might even change your mind about what it is you should be pursuing. Sevens indicate the wait for something we imagine. This number also represents a coming delivery of what we were waiting for — even if it is not quite what we thought it was. The Four Sevens in the Tarot represent challenges and obstacles that must be overcome in order to achieve aims or goals.
The Thoth Tarot Suit of Wands
The Suit of Wands is associated with primal energy, spirituality, inspiration, determination, strength, intuition, creativity, ambition and expansion, original thought and the seeds through which life springs forth. Wands deal with the spiritual level of consciousness and mirror what is important to you at the core of your being. Wands are also indicative of all things that you do during the day to keep you busy, be it working at the office, home or the great outdoors. Wands have to do with movement, action and initiatives and the launching of new ideas. They may be indicative of a never-ending 'Ideas List' or 'To Do List', whereby the client has many projects on the go to keep them busy. The negative aspects of the Suit of Wands include illusion, egotistical behaviour, impulsiveness, a lack of direction or purpose, or feeling meaningless.
The magnificent Thoth Tarot Deck contains the Kabbalistic and astrological attributions described in Aleister Crowleys Book Of Thoth. It is known for its striking beauty, as well as its depiction of an understanding of the occult that was gathered over a lifetime of study. In 1773 Antoine Court de Gébelin claimed that Egyptian priests coded the Book of Thoth into the images of the tarot.

Although this page is designed to be viewed individually when you search for Seven of Wands Thoth Tarot Meanings, you will find many more tarot pages that will be of great help if you need tarot card meanings. Use the search at the bottom of the page. We have some amazing tarot books to suggest to you. Please check them out.
---
Here are some snippets from a few of my favorite books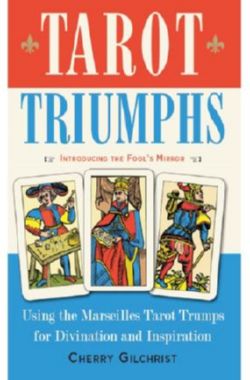 Tarot Triumphs: Every card contains living beings that can yield sensory information. Take note of anything else that happens as you touch; perhaps the character or creature will react, move, or even speak to you. Don't be surprised if you have an intense response to one or two aspects of the cards, but treat it as part of the range of experience rather than becoming overly concerned about what it means.
Elements of the Psychic World: Obsolete spelling of the word magic used by Aleister Crowley to 'distinguish the science of the mage from its counterfeits' -in other words to distinguish it from the 'magic' of magicians who entertain audiences with tricks and illusions. Since Crowley's time the term has been used by numerous magicians, writers and groups, some with connections to Crowley's magical beliefs, and some without. The adjective magickal and the noun magickan have also been in use in recent years. There have been other attempted respellings of the word magic, including magik, majick and majik, but none of these has caught on.
Development for Beginners: All of these instances are basic forms of psychic, or sixth sense, experiences, and in this book, I am going to show you how to build upon these types of
Do get in touch if you looked for Seven of Wands Thoth Tarot Meanings and we don't have it listed. We would be more than happy to source the information for you. We hope you visit again for more online tarot information!