Your Chosen Card – The Familiar Reversed Salem Deck
When reversed, the World card suggests that you are somehow hindered or delayed in your journey toward an important destination. Perhaps you are unaware of your own limits and have failed to set realistic goals. You need to examine and confront what is holding you back so that you can resume your forward movement. Will your current attitude or behavior result in expulsion from the Garden of Eden?
Keywords Reversed: Lack of commitment, failure to pursue one's dream, aimlessness, stagnation, not establishing a goal, an unattainable ambition, weak boundaries, paradise lost.
Key XXI: The World (the Universe)
Myths/Archetypes: The Second Coming. The New Jerusalem. The Garden of Eden. Paradise Regained. The Sign of the Cross.
Astrology: Saturn, the outermost visible planet. (Saturn rules Capricorn and Aquarius.) The four figures surrounding the central wreath in this card represent the four fixed signs of the zodiac: Taurus the bull, Leo the lion, Scorpio the scorpion and eagle, Aquarius the water bearer.
Numerology: 3 (Empress) = 1 + 2 (Hanged Man) = 2 + 1 (the World)
When The Familiar is reversed you can pretty much take it that life is going well but that's when life takes us by surprise.  If The Familiar is unclear it may help to choose a card from the Major Arcana to provide more insight into what it is The Familiar is trying to tell you.  If you had a particular issue in  mind, or want to seek clarification on something else, you can also choose again to get more guidance.

This chosen card is part of your reversed card reading for The Familiar using cards from the Salem Tarot Deck. You will find many more tarot pages that will be of great help if you need tarot card meanings. Use the search at the bottom of the page. We have some amazing tarot books for you to browse. Please see below.
---
Here are some snippets from a few of my favorite books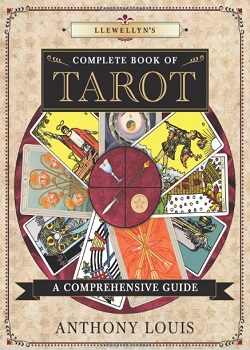 Complete Book of Tarot: If you have reached this point in the book, you should have a sense of the origins and history of the tarot, how it developed as a card game in Renaissance Italy and how it spread to France where eventually it became popularized as a means of divination in the eighteenth century. You should also be familiar with the three most popular categories of tarot decks—the Marseille, Waite-Smith, and Crowley-Harris Thoth tarot—and how they differ from so-called oracle and fortune-telling decks.
Complete Book of Tarot: Tarot began as a game of cards and, in some places, is still used for this purpose. Over the years, however, the deck became a tool for occultists seeking an esoteric understanding of the universe. In the 1700s, card readers, especially in France, began to use the tarot to make predictions about the future. During the past half-century, fortune-telling with the cards has fallen out of favor and instead the deck has become a tool for brainstorming, idea clarification, and self-discovery. Some modern-day counselors and psychotherapists utilize tarot decks to help clients deal with traumatic events and explore psychological issues.
Tarot for Beginners: However, reversed, the card can signify a block to independent creativity, or an over-reliance on others. There may be difficulties with an older woman, possibly a mother, aunt, or grandmother. Watch out for clinginess, jealousy, and/or an unhealthy response to money issues, either in yourself or in others.
Do get in touch if you looked for The Familiar and we don't have it listed. We would be more than happy to source the information for you. We hope you visit again for more online tarot information!
Development for Beginners: According to the teachings of the Far East, these records represent a collection of knowledge that is housed on a non-physical plane of existence. They are said to have existed since the dawn of time, forming a historical account of the whole universe.