Your Chosen Card – The Dark King Reversed Mage Deck
When reversed, the Emperor suggests that in some way you may have been remiss in fulfilling your role as a leader, organizer, or person in charge. Perhaps you have been pussyfooting around or, at the other end of the spectrum, acting in a dictatorial manner. Don't be a wimp; it's time to act your age and put your life in order. You need to analyze the situation, establish boundaries and limits, and develop a plan so that you do what needs to be done. President Harry S. Truman kept a sign on his desk that said 'The buck stops here!' to remind him that the president has final authority to make decisions but also ultimate responsibility for their consequences.
Keywords Reversed: Domination, arrogance, inflexibility, conventionality, butting heads, wimpishness, impotence, lack of confidence, immaturity, lack of reason or excessive rationality, indecision, disorder, loss, lack of structure, male infertility, abuse of power, vanity, inability to get things done, failure to take charge when you need to.
Key IV: The Emperor
Myths/Archetypes: The Great Father. The Ruler. The King of Kings. Zeus. Yahweh. Ouranos. Priapus. George Washington. Head of State.
Dates of Aries: 21 March–20 April (tropical); 14 April–13 May (sidereal)
Astrology: Aries, the Ram (a Fire sign ruled by Mars)
Numerology: 4 (Emperor) ~ 1 + 3 (Death) ~ 2 + 2 (The Fool)
4. The Emperor: Ultimate Secular Authority
When The Dark King is reversed you can pretty much take it that life is going well but that's when life takes us by surprise.  If The Dark King is unclear it may help to choose a card from the Major Arcana to provide more insight into what it is The Dark King is trying to tell you.  If you had a particular issue in  mind, or want to seek clarification on something else, you can also choose again to get more guidance.

This chosen card is part of your reversed card reading for The Dark King using cards from the Mage Tarot Deck. You will find many more tarot pages that will be of great help if you need tarot card meanings. Use the search at the bottom of the page. We have some amazing tarot books for you to browse. Please see below.
---
Here are some snippets from a few of my favorite books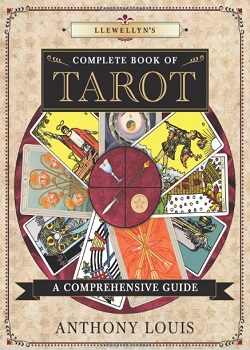 Complete Book of Tarot: Further, I will comport myself and use my knowledge in a godly manner. I will offer no advice about matters of which I lack expert knowledge, but shall commit such affairs entirely to an appropriately trained professional.
Complete Book of Tarot: Sign 1: Aries and the Emperor—How are you expressing your power, authority, and individual identity in the world?
Elements of the Psychic World: During the later part of the 1970s Nancy Ann Tappe, a psychic and lecturer at the University of San Diego, noticed a change taking place in the colour of children's auras. Nancy believed that her ability to see auras was due to the fact that she had been diagnosed with synesthesia, a condition where two neurological systems become crossed so that the senses get reversed. As part of her research and study Nancy published a book in 1982 called Understanding Your Life Through Color, and in this book she first mentioned the term indigo. A few years later, Lee Carol, a channeller for an entity he calls Kryon, and his wife, Jan Tober, presented Tappe's research on varying colours of the aura in
Do get in touch if you looked for The Dark King and we don't have it listed. We would be more than happy to source the information for you. We hope you visit again for more online tarot information!
Elements of the Psychic World: 4 Emperor: sometimes shown holding sphere and sceptre, a king on his throne, representing sight, vision, realization, power, strength.