This page is an index and is part of a Chalices Work Reading with the Salem Tarot Deck. If you are reading this page by mistake you may prefer Interactive Online Tarot or if you looked for a Chalices Work Reading with the Salem Deck try a search; everything has tags so search for "work,salem,chalices" and you should find what you want.
Career, Work Or Retirement
Consulting the tarot can be just the thing you need to get valuable, unbiased guidance on work or retirement related matters. If you want to know whether you will be successful in your career, then there are 10 card of the 78 that bode very well for your career and many more that give guidance on career, work and retirement. A work or career reading is useful for finding which steps you can take to find the right career for you, seeing ways to create a harmonious work-life balance, seeking guidance on the next steps you need to take. Aces in a career reading indicate new beginnings.
You've no doubt heard the saying, "A bad workman blames his own tools." Well the "tools" being blamed could be a host of things. It could be people, such as our work colleagues that are to blame for things not going right, for the situation we find ourselves in. It could be the company we work for, or our inabilty to find work or advance in our career. This is where a work or career tarot reading can help.
Timing: When looking for time sensitive answers, Chalices generally means moderately slow, usually weeks to months.
Upright
Reversed>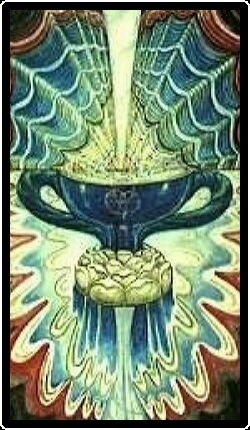 With deep rich colors, subdued by subtle shades of red/orange, the overall look is dark as you would expect from a deck loosely designed to reflect the witch periods of Salem. The Salem Tarot is a deck of magic and destiny. Within its 78 cards lies the souls path from birth to death and beyond. It's uses pagan and medieval imagery and each card has subtle flashbacks to the times of Salem and the witch trials.
If a Chalices card appears in you reading, heres what you need to know:
The Suit of Chalices deals with the emotional level of consciousness and is associated with love, feelings, relationships and connections. Chalices are about displays of emotion, expression of feelings and the role of emotions in relation to others. The Chalices Tarot cards indicate that you are thinking with your heart rather than your head, and thus reflect your spontaneous responses and your habitual reactions to situations. Chalices are also linked to creativity, romanticism, fantasy and imagination. The negative aspects of the Suit of Chalices (i.e. when the Chalices cards appear reversed) include being overly emotional or completely disengaged and dispassionate, having unrealistic expectations and fantasising about what could be. There may be repressed emotions, an inability to truly express oneself and a lack of creativity. The Suit of Chalices traditionally represents the west and autumn. If using an ordinary deck of playing cards, Chalices are represented by the Suit of Hearts.
Love, emotions, relationships, feelings, empathy, intuition, creativity, peacefulness.
Timing: When looking for time sensitive answers, Chalices generally means moderately slow, usually weeks to months.

This index hold a link to all pages for a Work Tarot Readings Salem Tarot Deck Chalices. You will find many more tarot readings pages that will be of great help if you need tarot card meanings. Use the search at the bottom of the page. Please see our book suggestions below.
---
Here are some short extracts from my favorite books to give you a feel for the book.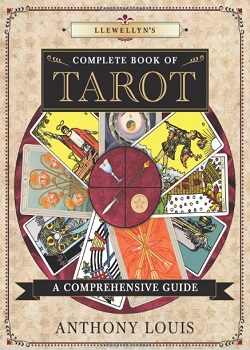 Complete Book of Tarot: Ruled by warlike Mars the warrior god and in modern astrology by Pluto, Scorpio is the eighth sign. Scorpio the Scorpion, a fixed sign of concentrated energy, is associated with the Death card, trump XIII. The King of Cups falls largely under Scorpio, a sign whose natives are characterized by these traits:
Elements of the Psychic World: Even though interest in spiritualism was steadily growing at the time there was opposition to the group and it had difficulty obtaining halls for meetings and séances. In an effort to counteract some of the opposition it changed its name to the Spiritual Evidence Society.
Elements of the Psychic World: Ford founded the first Spiritualist Church in New York City in the late 1920s and this was the first of many. His belief in reincarnation, however, led to conflict with the National Spiritualist Association, who did not accept the concept. After many years of disagreements Ford founded the International
Do get in touch if you looked for Work Tarot Readings Salem Tarot Deck Chalices and you don't see what you want. We would be more than happy to help. In the meantime do try our many interactive tarot readings online.
Elements of the Psychic World: Ford founded the first Spiritualist Church in New York City in the late 1920s and this was the first of many. His belief in reincarnation, however, led to conflict with the National Spiritualist Association, who did not accept the concept. After many years of disagreements Ford founded the International