This page is part of your spiritual tarot reading with the Rider Waite Tarot Deck. If you are reading this page by accident you may prefer our Spirit Guide Quiz or if you looked for The Wheel of Fortune specifically try The Wheel of Fortune Rider Waite Tarot Meaning. Love, Luck and Light to all!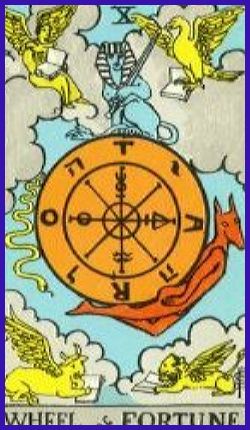 Faith, Spirituality Or Psychic Progression:
It's important to be aware that in nearly all instances, we do make a contribution in some way to what is happening in our lives. It is rare for things to 'just happen' or for us to be a truly blameless 'victim' in a situation. Accept whatever your fair share of responsibility is for the situation you are currently facing, be accountable to yourself if to no one else, and move on. Sometimes things do 'just happen,' if that is the case – rest assured you are by no means alone in that experience, and reach out for support. The support you need is truly always available.
Card Meanings: Fate, Destiny, Soulmates, Progress, Upheaval, Unexpected Events, Advancement, Cycles Of Life, Change, Good Luck, Decisive Moments, Karma, Fortune
The Wheel of Fortune tells you that in general, it looks as though things are changing. In most cases, this indicates positive, needed changes but for some people, change itself is very difficult and can almost be traumatic. This is a very spiritual and karmically oriented time. Change is part of the cyclical nature of life.

This reading is part of a spiritual tarot reading using the The Wheel of Fortune using cards from the with the Rider Waite Tarot Deck. You will find many more tarot pages that will be of great help if you need tarot card meanings. Use the search at the bottom of the page. We have some amazing tarot books for you to browse. Please see below.
---
Here are some snippets from a few of my favorite books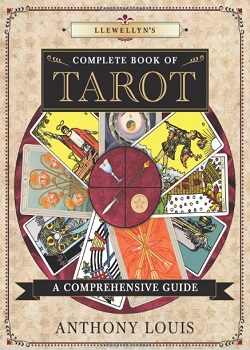 Complete Book of Tarot: The symbolism of numbers plays an important role in many forms of divination, including the tarot. In Western philosophy, the belief in the spiritual significance of numbers dates at least as far back as ancient Greece, especially the time of Pythagoras. Often described as the first pure mathematician, Pythagoras of Samos (c. 570 BCE–c. 495 BCE) is credited with the Pythagorean theorem that we learned in high school. Pythagoras was a major proponent of the symbolic significance of numbers. According to his biographer Iamblichus (c. 300 CE), Pythagoras taught that number is the ruler of forms and ideas, and the cause of gods and daemons.
Try our Love Horoscopes: Love Compatibility
Complete Book of Tarot: Trump 11: Strength (Fortitude, often exchanged for Justice in modern decks). Here the tarot is again following the order of cardinal virtues laid out by Thomas Aquinas. We must cultivate the virtue of Fortitude to deal successfully with the slings and arrows of outrageous fortune (trump 10, the Wheel of Fortune).
Tarot Triumphs: On Fortune's throne, I used to sit raised up, crowned with the many-colored flowers of prosperity; though I may have flourished, happy and blessed, now I fall from its peak, stripped of glory. The wheel of Fortune turns: I go down, demeaned; now another is raised up. Far too high up sits the king at the summit—let him fear ruin!33
Feel free to drop us a line if you looked for The Wheel of Fortune Rider Waite Spiritual Tarot Reading and you don't see what you want. We would be glad to help. In the meantime checkout Tarot Reader Slough.
Tarot Triumphs: On Fortune's throne, I used to sit raised up, crowned with the many-colored flowers of prosperity; though I may have flourished, happy and blessed, now I fall from its peak, stripped of glory. The wheel of Fortune turns: I go down, demeaned; now another is raised up. Far too high up sits the king at the summit—let him fear ruin!33