This page is part of your health tarot reading with the Thoth Tarot Deck. If you are reading this page by accident you may prefer our Spirit Guide Quiz or if you looked for The Aeon specifically try The Aeon Thoth Tarot Meaning. Love, Luck and Light to all!
Well-Being, Physical Health Or Mental Health:
This is an important time to let go of the past and any wrongs that you perceive were done to you, particularly if you are dealing with chronic medical issues. Letting go of your need to be right will go a long way toward helping you to feel better. Besides, if someone did you wrong, then they did wrong, and you don't have to stay angry at them to prove that they were wrong. Think positively.
Card Meanings: Snap Judgments, Rejuvenation, Awakening, Self-Evaluation, Decisiveness, Composure, Apportioning Blame, Rebirth, Homesickness, Judgment, Atonement, Judgment, Improvement, Promotion, Renewal
Judgment can be a card about jumping to conclusions, decisions and of course, judgments, which are too hastily made. If you are prone to such things, this is a clear signal to slow down and give things more thought and to give people 'more chances.' This can also be a time of fundamental spiritual awakening.

This reading is part of a health tarot reading using the The Aeon using cards from the with the Thoth Tarot Deck. You will find many more tarot pages that will be of great help if you need tarot card meanings. Use the search at the bottom of the page. We have some amazing tarot books for you to browse. Please see below.
---
Here are some snippets from a few of my favorite books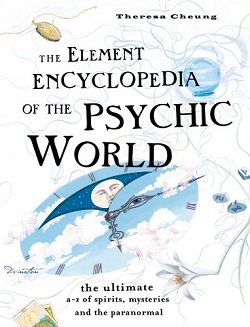 Elements of the Psychic World: A natural or spiritual substance thought to be one of the fundamental energies of the universe with inherent power. Many belief systems have rituals and techniques to harness these energies and powers for boosting health or creating magic. Each culture has slight variations in the type and number or elements consulted. In Western traditions there are four elements: air, water, fire and earth. In Hinduism there are five elements: air, water, earth, fire and ether. In Taoism there are also five elements: earth, metal, water, wood and fire.
Try our Love Horoscopes: Aries and Pisces
Angel Encyclopedia: An ancient name attributed to a god, a sun, an angel, and a DEMON. Abraxas was the name of a sun mounting an ouroborus (a snake biting its tail) held by the highest Egyptian god Isis, the creator of the sun and mistress of all the gods. Isis mythology found its way deeply into GNOSTICISM, in which Abraxas is the name of the ruler of the 365th (highest and final) AEON, or sphere ascending to the unknowable God. Abraxas thus became the Gnostic demigod or Aeon of the High Heaven. Abraxas is mentioned frequently in Gnostic literature as one of the great aeons—along with Gamaliel and Sablo—who brings the elect into HEAVEN.
Angel Encyclopedia: Adam begins his revelation by telling Seth that he and Eve once had the glory of the aeon from which they had come. Eve teaches him a word knowledge of the eternal God, and they are 'like great eternal angels,' loftier than God. But upon the fall they become two aeons and their glory returns to a higher level. Their knowledge passes into humanity through Seth. But the knowledge of God leaves them, and their world is dark and full of 'dead things, like men.'
Feel free to drop us a line if you looked for The Aeon Thoth Health Tarot Reading and you don't see what you want. We would be glad to help. In the meantime checkout Tarot Reader Glasgow.
Angel Encyclopedia: Adam begins his revelation by telling Seth that he and Eve once had the glory of the aeon from which they had come. Eve teaches him a word knowledge of the eternal God, and they are 'like great eternal angels,' loftier than God. But upon the fall they become two aeons and their glory returns to a higher level. Their knowledge passes into humanity through Seth. But the knowledge of God leaves them, and their world is dark and full of 'dead things, like men.'