This page is part of your work tarot reading with the Golden Tarot Deck. If you are reading this page by accident you may prefer our Spirit Guide Quiz or if you looked for Justice specifically try Justice Golden Tarot Meaning. Love, Luck and Light to all!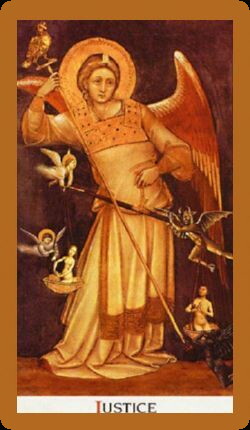 Career, Work Or Retirement:
When Justice comes up in reverse in the context of a work question, you may indeed be being treated unfairly in your workplace. However, there may not be a great deal which you can do to change this in the short term. Think critically and logically about what is happening and do not allow emotion to make you cut off your nose to spite your face. Even when reversed, this card carries the warning that you need to be sure that your work/life balance is where it needs to be. Too much emphasis on either aspect of life throws the other into imbalance. Seek the best advice you can find before making any major changes with regard to your working life. Yes, things may be unjust. However the solution may be of longer term than simply leaving or creating a confrontation about it. Slow down.
Card Meanings: Unfaithfulness, Corruption, Karmic Retribution, Sickness, Dishonesty, Unfairness, Weakness, Injustice, Lack Of Accountability, Pettiness
Justice deals with the idea of karma and the law of cause and effect, stating that all events, and all people, are connected. It's important to remember that not everything you are dealing with, however, is a direct result of your own actions or karma. Sometimes you will be called upon to deal with the results of the actions of someone you care about, and this can sometimes be as difficult and demanding as it is when you're up against something that is completely of your own making. Don't blame yourself unnecessarily.

This reading is part of a work tarot reading using the Justice using cards from the with the Golden Tarot Deck. You will find many more tarot pages that will be of great help if you need tarot card meanings. Use the search at the bottom of the page. We have some amazing tarot books for you to browse. Please see below.
---
Here are some snippets from a few of my favorite books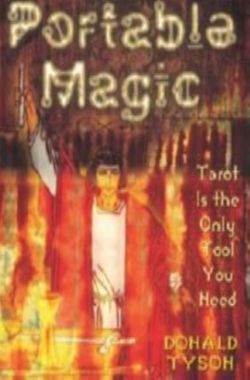 Portable Magic: For the first stage, the beginning of the fulfilment of her purpose, she picks the Three of Pentacles, which bears the title Lord of Material Works. It is of the nature of Mars acting in the second decanate of Capricorn, and also of Saturn modified by the influence of Binah. Pentacles is the suit of elemental Earth, and relates to material realization and manifest actions. Both Mars and Capricorn are strongly masculine, so there is much virile energy in this card. Its action will be overt and practical. Saturn is a cold and distant planet relating to restriction and discipline, but its aridity is softened by its action in the sphere of Binah, the great cosmic womb of creation. Saturn acting through Binah suggests the controlled and calculated investment of resources.
Try our Love Horoscopes: Libra and Sagittarius Match
Complete Book of Tarot: When upright, the Justice card suggests that your current situation hinges on matters of equilibrium, balance, fair treatment, and justice. If you are involved in a legal matter, it will be judged impartially and is likely to be decided in your favor (but only if you are in the right). If you are in the wrong, the same impartiality applies and you will be held accountable. In any decision you take now, it is essential to be honest and judicious in weighing the pros and cons. In the words of the Bible: 'Be not deceived; God is not mocked: for whatsoever a man soweth, that shall he also reap' (Galatians 6:7, KJV).
Creative Tarot: For Waite, there is a higher purpose for a person's existence, and mysticism is a tool to find that purpose and follow it. To help that process along best, he would need a tarot deck that was designed with these goals specifically in mind. The deck, he thought, needed to be reworked with an emphasis on its symbolism and symbolism's connection to the intuition. First, he needed an artist.
Feel free to drop us a line if you looked for Justice Golden Work Tarot Reading and you don't see what you want. We would be glad to help. In the meantime checkout Tarot Reader Flintshire.
Elements of the Psychic World: In justice to Mrs Leonard, it should be pointed out that the phenomena obtained in these circumstances are not likely to be as interesting or remarkable as those obtained by sitters who have sat regularly with Mrs Leonard during some months or even years. First sittings, even when they are on the whole successful, are apt to be of a rather tentative nature, and they usually follow certain