Your Chosen Card – Nine of Wands Upright Salem Deck
When upright, the wounded warrior on this card must muster the courage to face another challenge and defend himself against his adversaries. His strength, fitness, and self-determination has gotten him this far, and he may need to go the rest of the way alone. Although the odds against succeeding may appear overwhelming, he is well-prepared for the oncoming attack. The warrior knows that he must make careful choices and call on all his inner resources. Such persistence, in the face of difficulties and delays, is necessary if there is to be victory. Should the outcome be defeat, the warrior will know that he fought honorably and with distinction. Sometimes an exit strategy is the wisest course of action.
Keywords Upright: Strength in opposition, order, discipline, preparedness, endurance, resilience, caution, self-determination, bodily health, resourcefulness, facing challenge, taking the initiative, going it alone, Herculean effort, deciding to suspend a course of action, choosing one among many options.
Timing: 10 Sagittarius–20 Sagittarius. Tropical, 3 December–12 December. Sidereal, 25 December–3 January.
Astrology: The emotional and sensitive Moon in the second decan of fiery Sagittarius, realm of the Prince of Wands (Fire of Fire) and Temperance (Sagittarius). The Moon is linked to the High Priestess.
Number Symbolism: 9 – the final single digit, culmination, fruition, attainment.
Crowley/Thoth: Great strength, power, energy, health, a change in stability.
When Nine of Wands is upright you can pretty much take it that life is going well but that's when life takes us by surprise.  If Nine of Wands is unclear it may help to choose a card from the Major Arcana to provide more insight into what it is Nine of Wands is trying to tell you.  If you had a particular issue in  mind, or want to seek clarification on something else, you can also choose again to get more guidance.

This chosen card is part of your upright card reading for Nine of Wands using cards from the Salem Tarot Deck. You will find many more tarot pages that will be of great help if you need tarot card meanings. Use the search at the bottom of the page. We have some amazing tarot books for you to browse. Please see below.
---
Here are some snippets from a few of my favorite books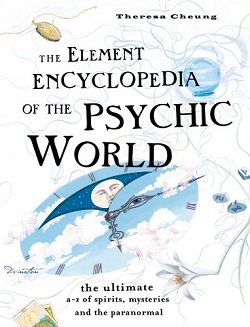 Elements of the Psychic World: Below are some traditional interpretations of the Major Arcana, based on the Rider Waite pack. These are by no means the only set of meanings that exist for the tarot. Different traditions are followed in different countries and even between different decks, and it is universally agreed that by far the best interpretation you can give a tarot card is the one you feel and sense yourself in response to the image on the card.
Reversed Cards: You could argue that this card is blocked in its upright position, which could actually be true. The Nine of Wands does show a certain amount of tension. The man doesn't want to let down his guard or give up any ground. In this aspect, you could be digging in your heels, almost to the point of being totally inflexible. When a negative energy is amplified, it never ends well, not for you and not for any other people who may be involved. Just do yourself a favor and don't act in anger. Take a moment or two to breathe. It will do more good than you could possibly imagine.
Complete Book of Tarot: In my late teens, I started reading Freud and Jung and became fascinated with dream symbols and psychological archetypes. My study of the celestial science resonated with what these two great psychologists had to say. In my own experience, Jung's writings made sense regarding the contents of the collective unconscious. The same images that populated mythology, religion, and world literature cropped up in astrology and tarot. The symbolism shared by psychology, psychoanalysis, and astrology held my attention throughout my studies.
Do get in touch if you looked for Nine of Wands and we don't have it listed. We would be more than happy to source the information for you. We hope you visit again for more online tarot information!
Complete Book of Tarot: The evil kitty myth: keep the cards away from cats because felines act as a drain on psychic ability.