This page is part of your spiritual tarot reading with the Golden Tarot Deck. If you are reading this page by accident you may prefer our Spirit Guide Quiz or if you looked for The Six of Wands specifically try The Six of Wands Golden Tarot Meaning. Love, Luck and Light to all!
Faith, Spirituality Or Psychic Progression:
The reversed Six of Wands can indicate that you are somehow expecting the universe to give you answers or guidance without any input or effort from you. Yes, it sometimes happens that way, but more often, we are expected to ask about specifics, and take action on our own, rather than waiting for everything to line up in perfect order. Be open to the insights you are given from others, at least enough to consider them fully even if you ultimately reject their interpretation.
Card Meanings: Broken Promises, Pride In Riches, Failure, Fame Hungry, Egotistical, Being Hunted, Postponement, Pride Before A Fall, Treachery, Disgrace, Losing, Ill-Will, Disadvantage, Lack Of Achievement/Recognition/ Support/ Confidence/ Endurance, Diva, Disloyalty, Mob/ Pack Mentality, Bad News, Weakness, Arrogant, Being A Follower, Disappointment
The Six of Wands is a very positive omen. It can indicate that despite the challenges you are facing, you will overcome them and come out on top. This card also points toward literal or metaphorical movement; things are changing, in a positive way.

This reading is part of a spiritual tarot reading using the The Six of Wands using cards from the with the Golden Tarot Deck. You will find many more tarot pages that will be of great help if you need tarot card meanings. Use the search at the bottom of the page. We have some amazing tarot books for you to browse. Please see below.
---
Here are some snippets from a few of my favorite books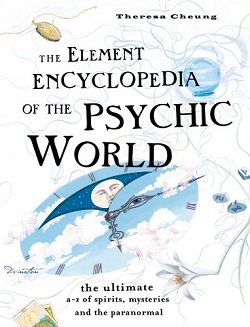 Elements of the Psychic World: Area in central Arizona said to be a psychic vortex or power spot. The site is in the red rock country near the town of Sedona and is believed to lie on a ley line. The area is sacred to the Yavapai Native Americans who believe deities live in the rocks. There is also a legend that the remains of an advanced civilization lie buried deep beneath the rocks. The site is visited by thousands of people every year. Paranormal experiences reported when visiting the site include visions of spirits, auras over the rocks, past-life recall, clairvoyant dreams, automatic writing, ESP, physical cures and spiritual transformation.
Try our Love Horoscopes: Power Animals and Their Meanings
Angel Encyclopedia: According to Cellini, these celestial visitations and visions sustained him through the darkest period of his imprisonment. Not long after the sun-vision, he was released from the dungeon by the pope on the personal request of a cardinal. He went on to become one of the most celebrated artists of the Renaissance.
Reversed Cards: The Justice card, like other cards in the tarot, allows us to directly see if our inner values and beliefs match up with the physical world we engage in. If we are out of integrity, this disingenuous energy shows up right away in the people we meet, the situations we find ourselves in, and the problems we face. If however, we are walking an authentic path with compassion and kindness, this energy of integrity too will be echoed in our outer experience. This is one of the many ways Justice is able to communicate the truth with you. It holds a mirror up to that which is true and allows you to see where you are being false. This isn't the easiest aspect of the card. It requires a detached mind and an open and honest heart. It is not easy to see the truth of the experience you have created, but if you have drawn this card in the mirror aspect, that is exactly what you must do.
Feel free to drop us a line if you looked for The Six of Wands Golden Spiritual Tarot Reading and you don't see what you want. We would be glad to help. In the meantime checkout Tarot Reader Cornwall.
Tarot Triumphs: Trumps—The usual word for the twenty-two Tarot cards of the Major Arcana, each a symbolic image open to interpretation on various levels. The term Trumps or Triumphs may relate to a kind of gaming sequence where one card 'trumps' another. In Tarot reading, Tarot Trumps are generally considered to be of equal status.