One Card Patens Reading (Salem Deck)
Select one card then click it once it turns over.
)

General Meanings Patens
The Suit of Patens covers material aspects of life including work, business, trade, property, money and other material possessions. The positive aspects of the Suit of Patenes include manifestation, realisation, proof and prosperity. Patens deals with the physical or external level of consciousness and thus mirror the outer situations of your health, finances, work, and creativity. They have to do with what we make of our outer surroundings – how we create it, shape it, transform it and grow it. On a more esoteric level, Patens are associated with the ego, self-esteem and self-image. The negative aspects of the Suit of Patens include being possessive, greedy, overly materialistic, over-indulging and not exercising, not effectively managing, finances, being overly focused on career
Energies connected: Patens
Practicalities, work, home, fertility,family, prosperity,education, manifestation, business.
About the Salem Tarot Deck
With deep rich colors, subdued by subtle shades of red/orange, the overall look is dark as you would expect from a deck loosely designed to reflect the witch periods of Salem. The Salem Tarot is a deck of magic and destiny. Within its 78 cards lies the souls path from birth to death and beyond. It's uses pagan and medieval imagery and each card has subtle flashbacks to the times of Salem and the witch trials.

This daily tarot reading is part of a one card reading with patens cards from the Salem Tarot Deck. You will find many more tarot pages that will be of great help if you need tarot card meanings. Use the search at the bottom of the page. We have some amazing tarot books for you to browse. Please see below.
---
Here are some snippets from a few of my favorite books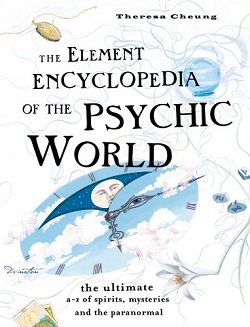 Elements of the Psychic World: A belief system of nature and goddess worship, magical practice and folk religion that incorporates numerous other traditions including divination, herbalism and paganism. A female practitioner is called a witch and a male practitioner is called a warlock. In contrast to Wicca, a decidedly white magic movement, witchcraft utilizes both white and black magic, depending on the choice made by the individual.
Elements of the Psychic World: According to legend Herne was once a royal huntsman of King Richard II who saved the King by throwing himself in front of him when a wounded stag lunged towards the King. As he lay dying a wizard appeared and told the King that if the stag's horns were cut off and tied on to Herne he would be saved. The King did as instructed and Herne recovered. He became the King's favourite for many years and was lavished with gifts, until other jealous huntsmen persuaded the King to cast him aside. Unable to cope without the King's support the devastated Herne hanged himself from the branch of an oak tree in the park. He is said to have haunted the forest ever since.
Development for Beginners: Libra is the seventh astrological sign in the zodiac. Ruled by the planet Venus, Libra kicks off the autumnal equinox with its commencement on September 23rd. The constellation for which it is named is depicted as the scales, which, according to Greek mythology, was held by Astraea, the Goddess of Justice. Libra occurs between the 180th and 209th degrees of ecliptic longitude.
Do get in touch if you looked for One Card Patens Reading with the Salem Tarot Deck and we don't have it listed. We would be more than happy to source the information for you. We hope you visit again for more online tarot information!
0