Not looking for The Ace of Patens Tarot Card Meanings Salem Deck? You will see a search option at the bottom of the page. We have many pages just to get you precisely where you want to go.
The Ace of Patens
: Upright Meanings
Prosperity
Happiness
Pleasure
The Ace of Patens: Reversed Meanings
The Salem Tarot The Ace's
The Tarot Aces are most often welcomed in a draw, as they inspire newness in many aspects: growth, challenges, ideas, love, opportunities, perspectives… New everything! They are usually seen as positive, if you are ready for change or to see things with a new vision. Aces are the root force, the spark or seed of the suit. They have no purpose yet, but are filled with raw potential. They are the active energy of the suit ready to be used. They can also indicate compass direction or season. They represent the seed of potential, the potential of what could happen next, because it hasn't yet fully manifested. And within any Tarot reading, the Aces show us that possibility. It's up to us to turn it into something further.
The Salem Tarot Suit of Patens
The Suit of Patens covers material aspects of life including work, business, trade, property, money and other material possessions. The positive aspects of the Suit of Patenes include manifestation, realisation, proof and prosperity. Patens deals with the physical or external level of consciousness and thus mirror the outer situations of your health, finances, work, and creativity. They have to do with what we make of our outer surroundings -how we create it, shape it, transform it and grow it. On a more esoteric level, Patens are associated with the ego, self-esteem and self-image. The negative aspects of the Suit of Patens include being possessive, greedy, overly materialistic, over-indulging and not exercising, not effectively managing, finances, being overly focused on career
With deep rich colors, subdued by subtle shades of red/orange, the overall look is dark as you would expect from a deck loosely designed to reflect the witch periods of Salem. The Salem Tarot is a deck of magic and destiny. Within its 78 cards lies the souls path from birth to death and beyond. It's uses pagan and medieval imagery and each card has subtle flashbacks to the times of Salem and the witch trials.

Although this page is designed to be viewed individually when you search for Ace of Patens Salem Tarot Meanings, you will find many more tarot pages that will be of great help if you need tarot card meanings. Use the search at the bottom of the page. We have some amazing tarot books to suggest to you. Please check them out.
---
Here are some snippets from a few of my favorite books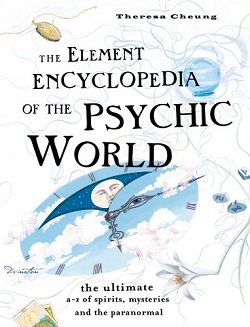 Elements of the Psychic World: A few days after a last experiment with Kluski in Warsaw Geley died in an aeroplane accident on 15 July 1924. Twenty-five years after his death an article by R Lambert accusing Geley of fraud appeared in the Journal of the Society for Psychical Research. Geley's reputation has been damaged ever since, but despite this his work is considered by many to mark a milestone in psychical research.
Development for Beginners: The Oracle at Delphi continued to prosper until the 1st century B.C. At which time it suffered significant damages due to earthquakes, looting, and barbarian invasions. Soon thereafter, the surrounding area became highly impoverished.
Elements of the Psychic World: Details vary widely but most initiations in magical lodges start by secluding the initiate to create a space physically and magically for the ceremony. The candidate usually blindfolded before being brought to the sacred space and left to wander around in circles, sometimes bumping into things, to create a heightened state of awareness. While in this state the candidate is taken through teachings, with the blindfold raised at significant moments to reveal important images. At some point during this process the candidate takes an oath binding him or
Do get in touch if you looked for Ace of Patens Salem Tarot Meanings and we don't have it listed. We would be more than happy to source the information for you. We hope you visit again for more online tarot information!