The Rabbit represents caution, fertility, rebirth and safety in numbers
What does dreaming about The Rabbit mean?
Dreaming of a rabbit  symbolizes caution in new undertakings. Several rabbits indicate that additional responsibilities are heading you way.
---
Upright Meanings: feeling pressure, paralysed by fear/terror, indecision, persecution, crisis, victimised, psychological issues, punishment, censure, weakness, hands tied, feeling trapped, silenced, dilemma, restricted, judgment, anxiety, backed into a corner, hopeless, trial by jury, helpless, negative attitudes, consequences, powerless, drama, imprisonment, slavery
The Rabbit can represent feeling trapped, confined, restricted or backed into a corner or having your hands tied. It signifies fear, terror, anxiety and psychological issues. It is a minor card of hopelessness, helplessness, powerlessness, slavery, persecution and being silenced or censored. You will be feeling the pressure when this appears and may be in crisis or going through a dilemma or drama. However, the overall theme of this card is that you are the one keeping yourself in this situation through negative thinking and allowing yourself to be paralysed by fear. You can take the blindfold off and walk away at any time! This card also represents consequences and judgment which may take the form of trial by jury, imprisonment and punishment.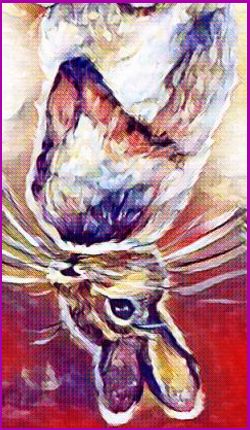 Reversed Meanings: healing, oppression, standing up to abuse, paralysis, escape, finding solutions/ options, hopeful, end of punishment, relaxation, new beginnings, freedom, overcome obstacles, release, relief, prison release, facing fears/ truth, releasing anxiety, clear mind, empowered, severe depression, survivor, mental strength, self-belief, taking control
When The Reversed Rabbit appears, you may be about ready to take some important steps and changes in your life, after having made some careful assessments. You are ready or almost ready to move beyond your fears. Keep moving. Seek support if you need it, but trust yourself.