This page is part of your finance tarot reading with the Salem Tarot Deck. If you are reading this page by accident you may prefer our Spirit Guide Quiz or if you looked for The Hanged Man specifically try The Hanged Man Salem Tarot Meaning. Love, Luck and Light to all!
Finance, Money Matters Or Debt:
When the Hanged Man is reversed, you may be unsure about what to do with regard to your financial situation. One of the most important things to realize now is that you are NOT alone and you do not have to try to do everything on your own. Do not hesitate to reach out for help if you need it. At the same time, as with an upright meaning, If things are tight financially, (yet you still have some resources remaining) this is an important time to open up the flow of prosperity by giving away some of what you have, even if all you have is a piece of bread. If that's the case, know that there is someone nearby who would probably give their right arm to share that piece of bread with you. Find them, and share it. Something as simple as this may start the wheels turning to bring your prosperity into better times. We are all in this life together.
Card Meanings: Discontentment, Useless Sacrifice, False Prophecy, Unwillingness, Impulsiveness, Apathy, Disinterest, Stagnation, Negative Patterns
The Hanged Man generally shows that you are at a crossroads – one with only two options i.e. in or out, up or down, yes or no. You may find yourself very much wanting to do 'something' but having no idea what it is or how to do it. If that happens, that's a clear sign that you should stop, relax, and look at ways that you might need to let go of attempts to control life/situations/people/things.

This reading is part of a finance tarot reading using the The Hanged Man using cards from the with the Salem Tarot Deck. You will find many more tarot pages that will be of great help if you need tarot card meanings. Use the search at the bottom of the page. We have some amazing tarot books for you to browse. Please see below.
---
Here are some snippets from a few of my favorite books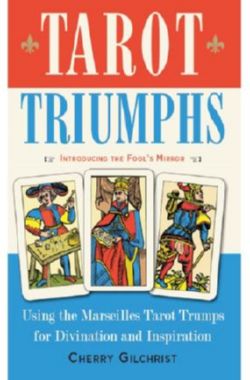 Tarot Triumphs: Later, we are home from our walk and I consider the reading. There was plenty of flowing water, and it was wet underfoot in places too. The meadows by the river were carpeted with wild daffodils, and I realize that they are the stars in the card, though I need to stretch a point slightly, as the flowers are six-petaled and the stars are eight-pointed. However, the image, with its golden beauty, really does correspond to my experience seeing thousands of daffodils today. As for the Tower, I didn't experience any kind of fall, but nevertheless I am very glad that I saw it as a warning and took a walking pole, since the path was slippery and stony in places.
Try our Love Horoscopes: Gemini and Sagittarius Match
Elements of the Psychic World: A person who practises magic and is skilled in spell casting and the magical arts. A magician studies supernormal scientific knowledge and masters psychic skills in the quest to understand humankind's purpose on earth. The popular image of a magician is characterized by the figure of Merlin – a wise old man in flowing robes and a pointed hat covered with stars. This image is rather outdated today.
Reversed Cards: The King of Pentacles knows that his outer world is a reflection of his inner landscape. He knows that what he sees, feels, touches, tastes, and smells first starts as a seed somewhere deep within him. When he looks at all that he has created, he sees a reflection of his imagination, belief, and hard work. But what do you see reflected back at you? Is your outer world showing you what you want to see? How are your health, your finances, your relationships, and your career? Are they exactly the way you want to see them, or do you still have more inner work to do?
Feel free to drop us a line if you looked for The Hanged Man Salem Finance Tarot Reading and you don't see what you want. We would be glad to help. In the meantime checkout Tarot Reader Somerset.
0