Clairvoyants, Mediums and Psychics in Norwich
Alexandra Oakes
Alexandra,a Norwich based International psychic medium, teacher and author offering over twenty years experience, has been guided to work spiritually, using all of her senses as a psychic-medium.
She reads not only intuitively but also combining clairaudience, clairsentience and clairvoyance.
Her readings often involve remote viewing to give an in-depth insight into your life & circumstances.
She works from the heart to give guidance and enlightenment in order to encourage and uplift others.
Telphone: 01553 349617
Mobile: 07934 096884


Clairvoyants, Mediums and Psychics in Norwich please contact us for your free listing here. If you were searching for a psychic in Norwich or any of the following areas, please reach out to us with the details of the psychic you eventually go to.
Covering the following areas in Norwich: Attleborough, Beccles, Bungay, Cromer, Dereham, Fakenham, Great Yarmouth, Holt, Lowestoft, Melton Constable, North Walsham, Norwich, Sheringham, Walsingham, Wells-Next-The-Sea, Wymondham

This page is part of our psychics directory for Norwich. If you weren't looking for psychics in Norwich use the search at the bottom of the page. In the meantime, we have some amazing books that may help if you want to know more about beoming a medium. Please see below.
---
Here are some extracts from a few of my favorites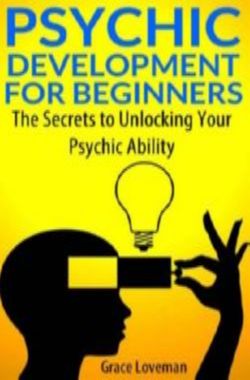 Development for Beginners: Attaining your primary psychic level is not something that is going to happen over night; it is going to take some time as well as a lot of patience and practice. In general, if you practice the exercises outlined in this chapter for 15 minutes a day, twice a day (once in the morning and once at night), over a period of 2-4 weeks, then you will be well on your way to developing the correct state of mind for tapping into your innate psychic abilities whenever you want.
Books to help develop your powers as a medium
Development for Beginners: In fact, you actually may have already tapped into your innate psychic ability without even knowing it! Have you ever received a phone call and just known who was on the other end before you even picked up the receiver? (And no, looking at the Caller ID does NOT count.) Or, have you ever had a feeling in your gut, telling you either to do or not to do something that was a little out of the norm and then later found out that listening to this mysterious feeling was highly advantageous?
Development for Beginners: By participating in classes and having readings done, you will be able to practice tapping into your intuition in a nonjudgmental atmosphere. You will be surrounded by people who share your interest in psychic development, so you will be in a nurturing environment and won't have to worry about any naysayers.


Full List of areas covered on our Norwich Psychics page:
Acle, Alburgh, Alby Hill, Aldborough, Aldeby, Alderford, Alpington, Anmer, Antingham, Arminghall, Ashby St Mary, Ashill, Ashmanhaugh, Ashwellthorpe, Ashwicken, Aslacton, Attleborough, Attlebridge, Aylmerton, Aylsham, Baconsthorpe, Bacton, Bagthorpe, Bale, Banham, Banningham, Barford, Barmer, Barney, Barnham Broom, Barton Bendish, Barton Common, Barton Turf, Bastwick, Bawburgh, Bawdeswell, Beechamwell, Beeston, Beeston Regis, Beeston St Lawrence, Beetley, Beighton, Belaugh, Belton, Bengate, Bergh Apton, Bessingham, Besthorpe, Bexwell, Billingford, Billockby, Binham, Bintree, Bircham Newton, Bircham Tofts, Bittering, Blackborough End, Blakeney, Blickling, Blo Norton, Blofield, Bodham Street, Bodney, Booton, Boughton, Bowthorpe, Bracon Ash, Bradfield, Bradwell, Bramerton, Brampton, Brancaster, Brandiston, Brandon Parva, Breckles, Bressingham, Brettenham, Bridgham, Briningham, Brinton, Brisley, Briston, Brockdish, Brooke, Broome, Brundall, Buckenham, Bunwell, Bunwell Street, Burgh Castle, Burgh next Aylsham, Burgh St Margaret, Burgh St Peter, Burnham Deepdale, Burnham Market, Burnham Norton, Burnham Overy, Burnham Thorpe, Burston, Bush Green, Buxton, Buxton Heath, Caister-on-Sea, Caistor St Edmund, Cake Street, California, Calthorpe, Cantley, Carbrooke, Carleton Forehoe, Carleton Rode, Castle Acre, Castle Rising, Caston, Catfield, Catton, Cawston, Chedgrave, Claxton, Clenchwarton, Cley next the Sea, Clint Green, Clippesby, Cockley Cley, Cockthorpe, Colby, Colkirk, Colney, Coltishall, Colton, Congham, Corpusty, Costessey, Coston, Cranwich, Cranworth, Crimplesham, Cringleford, Cromer, Crossdale Street, Crostwick, Crostwight, Crownthorpe, Croxton, Daffy Green, Damgate, Denton, Denver, Deopham, Deopham Green, Dersingham, Dickleburgh, Dilham, Diss, Ditchingham, Docking, Downham Market, Drayton, Dunston, Dunton, Earlham, Earsham, East Barsham, East Beckham, East Bilney, East Bradenham, East Carleton, East Dereham, East Harling, East Lexham, East Poringland, East Raynham, East Rudham, East Runton, East Ruston, East Somerton, East Tuddenham, East Walton, East Winch, Eastgate, Easton, Eaton, Eccles Road, Edgefield, Edingthorpe, Egmere, Ellingham, Elsing, Emneth, Emneth Hungate, Erpingham, Fairstead, Fakenham, Felbrigg, Felmingham, Felthorpe, Feltwell, Fersfield, Field Dalling, Filby, Fincham, Flitcham, Flordon, Fordham, Forncett End, Forncett St Mary, Forncett St Peter, Foulden, Foulsham, Foxley, Framingham Earl, Framingham Pigot, Freethorpe, Freethorpe Common, Frettenham, Fring, Fritton, Fulmodeston, Fundenhall, Garboldisham, Garvestone, Gasthorpe, Gateley, Gayton, Gayton Thorpe, Gaywood, Geldeston, Gillingham, Gimingham, Gissing, Glandford, Gooderstone, Gorleston on Sea, Great Bircham, Great Cressingham, Great Dunham, Great Ellingham, Great Fransham, Great Green, Great Hockham, Great Massingham, Great Melton, Great Moulton, Great Palgrave, Great Plumstead, Great Ryburgh, Great Snoring, Great Walsingham, Great Yarmouth, Gresham, Gressenhall, Grimston, Griston, Guestwick, Guist, Gunthorpe, Hackford, Haddiscoe, Hainford, Hales, Halvergate, Hanworth, Happisburgh, Happisburgh Common, Hapton, Hardingham, Hardley Street, Hardwick, Hargate, Harleston, Harpley, Hassingham, Heacham, Heckingham, Hedenham, Helhoughton, Hellesdon, Hellington, Hemblington, Hempnall, Hempnall Green, Hempstead, Hempton, Hemsby, Hethersett, Hevingham, Heydon, Hickling, Hickling Green, Hickling Heath, High Green, Hilborough, Hilgay, Hillington, Hindolveston, Hindringham, Hingham, Hockering, Hockwold cum Wilton, Hoe, Holkham, Holly End, Holme Hale, Holme next the Sea, Holt, Honing, Honingham, Hopton, Horning, Horningtoft, Horsey, Horsford, Horsham St Faith, Horstead, Houghton St Giles, Hoveton, Howe, Hunstanton, Hunworth, Ickburgh, Illington, Ingham, Ingoldisthorpe, Ingworth, Intwood, Irstead, Itteringham, Ivy Todd, Kelling, Kenninghall, Keswick, Ketteringham, Kettlestone, Kilverstone, Kimberley, King's Lynn, Kirby Bedon, Kirby Cane, Kirby Row, Kirstead Green, Knapton, Lakenham, Lakesend, Lamas, Langham, Langley Street, Larling, Lenwade, Lessingham, Letheringsett, Limpenhoe, Lingwood, Litcham, Little Barningham, Little Cressingham, Little Dunham, Little Ellingham, Little Fransham, Little Hautbois, Little London, Little Massingham, Little Melton, Little Plumstead, Little Ryburgh, Little Snoring, Little Walsingham, Loddon, Long Stratton, Longham, Low Street, Lower Green, Lower Thurlton, Ludham, Lynford, Lyng, Marham, Market Street, Marlingford, Marsham, Martham, Matlaske, Mattishall, Mattishall Burgh, Mautby, Maypole Green, Melton Constable, Merton, Methwold, Methwold Hythe, Metton, Middle Harling, Middleton, Mileham, Mill Street, Morley St Botolph, Morningthorpe, Morston, Morton, Moulton St Mary, Mulbarton, Mundesley, Mundford, Mundham, Narborough, Neatishead, Necton, Needham, New Buckenham, New Costessey, New Houghton, New Rackheath, Newgate, Newport, Newton, Newton Flotman, Newton St Faith, Nordelph, North Barsham, North Burlingham, North Creake, North Elmham, North End, North Green, North Lopham, North Pickenham, North Runcton, North Tuddenham, North Walsham, North Wootton, Northacre, Northall Green, Northrepps, Northwold, Norton Subcourse, Norwich, Old Buckenham, Ongar Hill, Ormesby St Margaret, Ormesby St Michael, Oulton, Oulton Street, Overstrand, Overy Staithe, Ovington, Oxborough, Oxnead, Oxwick, Panxworth, Paston, Pentney, Piccadilly Corner, Plumstead, Postwick, Pott Row, Potter Heigham, Primrose Green, Puddledock, Pulham Market, Pulham St Mary, Quidenham, Rackheath, Ramsgate Street, Ranworth, Raveningham, Redenhall, Reedham, Reepham, Repps, Reymerston, Ridlington, Ringland, Ringstead, Rockland All Saints, Rockland St Mary, Rockland St Peter, Rollesby, Roudham, Rougham, Roughton, Roydon, Runcton Holme, Runhall, Runham, Rushall, Rushford, Saddle Bow, Saham Toney, Salhouse, Sall, Salthouse, Sandringham, Saxlingham, Saxlingham Green, Saxlingham Nethergate, Saxlingham Thorpe, Saxthorpe, Scarning, Sco Ruston, Scole, Scottow, Scoulton, Scratby, Sculthorpe, Sea Palling, Sedgeford, Seething, Setchey, Shadwell, Sharrington, Shelfanger, Shelton, Shelton Green, Shereford, Sheringham, Shernborne, Shimpling, Shipdham, Short Green, Shotesham, Shouldham, Shouldham Thorpe, Shropham, Sidestrand, Silfield, Sisland, Skeyton, Sloley, Smallburgh, Smallworth, Snetterton, Snettisham, South Acre, South Burlingham, South Creake, South Green, South Lopham, South Pickenham, South Raynham, South Runcton, South Walsham, South Wootton, Southburgh, Southery, Southgate, Southrepps, Southtown, Southwood, Spa Common, Sparham, Spixworth, Spooner Row, Sporle, Sprowston, St Helena, St John's Fen End, St John's Highway, Stalham, Stalham Green, Stanfield, Stanhoe, Starston, Stibbard, Stiffkey, Stockton, Stody, Stoke Ferry, Stoke Holy Cross, Stokesby, Stow Bardolph, Stow Bedon, Stowbridge, Stradsett, Stratton St Michael, Stratton Strawless, Strumpshaw, Suffield, Summerfield, Surlingham, Sustead, Suton, Sutton, Swaffham, Swafield, Swainsthorpe, Swannington, Swanton Abbot, Swanton Morley, Swanton Novers, Swardeston, Syderstone, Tacolneston, Tasburgh, Tatterford, Tattersett, Taverham, Ten Mile Bank, Terrington St Clement, Terrington St John, Tharston, The Laurels, Thelveton, Themelthorpe, Thetford, Thompson, Thornage, Thornham, Thorpe, Thorpe Abbotts, Thorpe End Garden Village, Thorpe Market, Thorpe St Andrew, Thorpland, Three Holes, Threxton Hill, Thrigby, Thurgarton, Thurlton, Thurne, Thurning, Thursford, Thurton, Thuxton, Thwaite St Mary, Tibenham, Tilney All Saints, Tilney High End, Tilney St Lawrence, Titchwell, Tittleshall, Tivetshall St Margaret, Tivetshall St Mary, Toft Monks, Toftrees, Toftwood, Topcroft, Topcroft Street, Tottenhill, Trimingham, Trowse Newton, Trunch, Tunstall, Tunstead, Tuttington, Twyford, Upper Sheringham, Upper Street, Upton, Upton Green, Upwell, Wacton, Walcot Green, Walcott, Walpole Cross Keys, Walpole Highway, Walpole St Andrew, Walpole St Peter, Warham, Waterloo, Watlington, Watton, Watton Green, Waxham, Weasenham All Saints, Weasenham St Peter, Weeting, Welborne, Wellingham, Wells-next-the-Sea, Welney, Wendling, Wereham, West Acre, West Barsham, West Beckham, West Bilney, West Bradenham, West Caister, West Dereham, West End, West Lexham, West Lynn, West Newton, West Raynham, West Rudham, West Runton, West Somerton, West Tofts, West Walton, West Walton Highway, West Winch, Westfield, Westgate, Weston Green, Weston Longville, Westwick, Weybourne, Wheatacre, Whimpwell Green, Whinburgh, Whissonsett, Whittington, Whitwell, Wickhampton, Wicklewood, Wickmere, Wiggenhall St Germans, Wiggenhall St Mary Magdalen, Wiggenhall St Mary the Virgin, Wiggenhall St Peter, Wighton, Wilby, Wimbotsham, Winfarthing, Winterton-on-Sea, Witton Bridge, Wiveton, Wolferton, Wood Dalling, Wood Norton, Woodbastwick, Woodgate, Woodrising, Woodton, Wormegay, Worstead, Worthing, Wortwell, Wramplingham, Wreningham, Wretham, Wretton, Wroxham, Wymondham, Yaxham, Yelverton