This page is part of your finance tarot reading with the Rider Waite Tarot Deck. If you are reading this page by accident you may prefer our Spirit guide Quiz or if you looked for The Nine of Wands specifically try The Nine of Wands Rider Waite Tarot Meaning. Love, Luck and Light to all!
Finance, Money Matters Or Debt:
In terms of finances, The reversed Nine bears essentially the same meaning as the upright card. Driving yourself crazy with fear and worry will not help your financial situation. Don't beat yourself up for being where you are, just take one thing at a time, ask for help if you need it, and consider ways to cut expenses and/or increase your income. You can get through this, but freaking out will hurt instead of help. Nothing is likely to change overnight and this is not the time to gamble, either.
Card Meanings: Rigid, Stalemate, Chronic Fatigue, Refusing To Compromise/ Give In, Giving Up, No Fight Left, Falling At The Final Hurdle, Weakness, Adversity, Retreat, Obstinate, Ill-Health, Unexpected Trouble, Lack Of Courage/ Persistence/ Perseverance/ Backbone, Dropping Your Guard, Not Learning From Past, Stubborn, Last One Standing, Withdrawal
The Lord of Strength relates to our own inner strength and power. When he comes up, we need to allow ourselves to be reminded of our personal wealth of experience, knowledge and talents. This is something that we rarely take time out to assess and consider. Yet since we are constantly adding to it, it is something we should sum up as often as our bank accounts. When we get a clear view of our own strengths, we gather to us a new sense of self-confidence, holding ourselves in high esteem, and treating ourselves as good and trusted friends. This fundamental acceptance of ourselves is essential to allow us a long-term feeling of well-being and optimism. So on a day ruled by the Lord of Strength, we must count our personal strengths. This obviously raises a simple question….how do you know what is strong?
The quickest way to identify strengths is to look at the hardest experiences of your life, and assess how you feel you handled them. If you maintain a non-judgemental and objective perspective upon your actions, then you'll see that, over the years, you have learned to deal with trials and tribulations increasingly efficiently. Every single time you pass through a trying experience, you will have gathered more understanding about how to approach difficulties and resolve them. Your mistakes have special messages for you. To be able to admit you could have dealt with a situation better is, if you allow it to be, one of the most useful revelations of your life. Rather than feeling bad about your actions, allow yourself to consider what would have improved the outcome. Once you have done this, you'll store that away as new knowledge…and next time a similar situation occurs you'll remember, and act accordingly. Never be afraid of assessing your mistakes….there's one very big thing to be said for them – they are all yours!!!! And they can be teachers if you let them be. Having worked through the obvious strengths and frailties, go looking for the more subtle aspects of strength….empathy, compassion, patience, morality, humour, respect, honesty, understanding, sensitivity…..there are many many things that we might not at first count among our strengths that make us stronger people.

This reading is part of a finance tarot reading using the The Nine of Wands using cards from the with the Rider Waite Tarot Deck. You will find many more tarot pages that will be of great help if you need tarot card meanings. Use the search at the bottom of the page. We have some amazing tarot books for you to browse. Please see below.
---
Here are some snippets from a few of my favorite books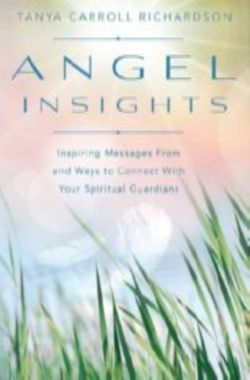 Angel Insights : Journaling can help you feel more grateful. Your guardian angels want you to recognize all the blessings in your life, even as they help you strive to do more and be more. Expressing gratitude to your angels by writing down your blessings will make you realize just how many blessings you experience every day. Gratitude not only makes you happier, it brings you closer to your guardian angels because you suddenly sense just how much your angels adore you—just how many special people and opportunities and precious moments are carried into your life on angel's wings every day. Seeing how many blessings you experience, written down in black and white, will inspire you to act as an angel to others. There are people who desperately need your assistance, whether it's donating money to a charity, donating some TLC to loved ones, or just donating a smile to a stranger on the street. Your guardian angels want you to follow in their flight pattern, and be of service to those around you. When the angel realm blesses your life, the angels are counting on your joy and gratitude spilling out to bless the world around you.
Try our Love Horoscopes: Aries and Aries Match
Creative Tarot: After work, it's been a trying day, and you're invited out with some coworkers or maybe some friends. Instead of talking about your feelings, maybe you let your shyness take over, and you kind of shrink back into yourself. It makes you feel lonely, even within a crowd. That's also the Nine of Wands.
Reversed Cards: There are times when our childhood memories can serve us, especially if they keep us from harm. By sensing a sound, smell, or feeling, your childhood instincts are now playing a huge part in keeping you safe and sound. It may seem dramatic, but it's not. Trust your inner child right now, as it knows what needs to be done and what direction you need to go. It also knows when to act, when to be still, and how to feel. Cups are the emotional barometer of the tarot, and how you feel is key.
Feel free to drop us a line if you looked for The Nine of Wands Rider Waite Finance Tarot Reading and you don't see what you want. We would be glad to help. In the meantime checkout Tarot Reader Cleveland.
Reversed Cards: Let's put it in a more practical form. Have you ever been late for work or an appointment because something or someone delayed you? Your alarm didn't go off or one of your kids suddenly took ill or your spouse took up a little more of your time then you had hoped. One of these things delayed you, pushed your schedule back, or made you change your plans. Then in hindsight you realized that the delay actually saved you from an accident or some other challenge. This is what a card in the protection aspect does. It diverts the energy around the point of chaos or pain and instead allows you to get to where you were headed all along in one piece.