This page is part of your health tarot reading with the Thoth Tarot Deck. If you are reading this page by accident you may prefer our Spirit Guide Quiz or if you looked for The Four of Cups specifically try The Four of Cups Thoth Tarot Meaning. Love, Luck and Light to all!
Well-Being, Physical Health Or Mental Health:
Focus on the positive. If you are having physical problems, remember that things do not always have to be the way they are right now, health wise. Pay attention to diet, exercise, and making time to rest/eat healthfully. You may need to reach out to a trusted counselor or friend to get help in 'moving beyond' where you are healthwise at the moment.
Card Meanings: Nostalgia, Disillusion, Self-Absorption, Frustration, Meditation, Stagnation, Remorse, Yearning, Reevaluation, Dissatisfaction, Boredom, Missed Opportunities, Refusing Offers, Depression, Kindness, Weariness, Regret, Apathy, Day-Dreaming, Focusing On The Negative, Redemption
The Four of Cups is a card about wishful thinking. It warns us to remember to pay attention to what 'is' now, and the many blessings we each currently experience, and not to worry too much about 'what could be.' It is all too easy to overlook what we already have in the pursuit of what we don't have.

This reading is part of a health tarot reading using the The Four of Cups using cards from the with the Thoth Tarot Deck. You will find many more tarot pages that will be of great help if you need tarot card meanings. Use the search at the bottom of the page. We have some amazing tarot books for you to browse. Please see below.
---
Here are some snippets from a few of my favorite books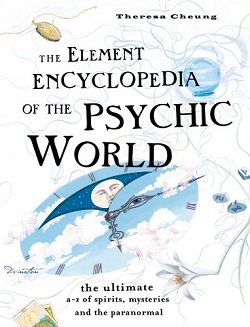 Elements of the Psychic World: According to psychics, negative energy can be disastrous to a person's life and can cause bad luck and poor health. There are a number of ways to cause or generate negative energy. For example, a person's thoughts can create negative energy. On a physical level, constant pessimism can lead to low self-esteem and the unhappiness such negativity attracts, and on a magical level pessimism can also be damaging as magical will responds best to optimism and good intention. In some cases (see psychic attack) enough concentrated negative thought about oneself or another person is believed to cause negative things to happen to oneself and/or others. Illness can also generate negative energy, as can negative thoughts about others, arguments, criminal acts, injustice, tragedy and violence.
Try our Love Horoscopes: Spirit Animals and Their Meanings
Reversed Cards: The Four of Cups in The Raven's Prophecy Tarot is almost identical upside down and right-side up, which makes it a fabulous image to illustrate the mirror aspect of this card: similar but different. The card depicts two ravens standing in water and pointing in the same direction as their reflections below. If you were to place a mirror next to this card, all four crows would be looking back at the others, as if looking into the past. It is as if their current emotional status is due to something behind them. Upright, they look to the future. Which is causing your emotional concerns, points of overwhelm, or moment of opportunity right now? The past or the future? The ravens wish to know.
Complete Book of Tarot: Lay out these cards and note any qualities they have in common. Do they share any symbolism with a forest fire or a burning candle? Do they have anything in common with the game of polo? Repeat this exercise after you have studied the suit of Wands. Record your observations in your tarot notebook.
Feel free to drop us a line if you looked for The Four of Cups Thoth Health Tarot Reading and you don't see what you want. We would be glad to help. In the meantime checkout Archangel Michael.
Complete Book of Tarot: Waite (1911): A young man is seated under a tree and contemplates three cups set on the grass before him; an arm issuing from a cloud offers him another cup. His expression notwithstanding is one of discontent with his environment. Divinatory Meanings: Weariness, disgust, aversion, imaginary vexations, as if the wine of this world had caused satiety only; another wine, as if a fairy gift, is now offered the wastrel, but he sees no consolation therein; also a card of blended pleasure; (R) novelty, presage, new instruction, new relations, presentiment.