This page is part of your finance tarot reading with the Rider Waite Tarot Deck. If you are reading this page by accident you may prefer our Spirit guide Quiz or if you looked for The Ace of Wands specifically try The Ace of Wands Rider Waite Tarot Meaning. Love, Luck and Light to all!
Finance, Money Matters Or Debt:
The Ace of Wands reversed shows a need to pay close attention to what you are doing with your money. This is not the time to take chances or to just hand over your financial responsibility to a broker or banker and expect them to act in your best interest. There is no such thing as a 'sure bet,' in investing or in horse racing, so be careful.
Card Meanings: Disappointing News, Stopping Something, Infertility, Creative Blocks, Missed Opportunities, Hesitant, Bored, Cancelled Travel, Being Too Intense, Slow, Pregnancy Issues, Lack Of Determination, Delays, Lack Of Initiative/ Passion/ Assertiveness/ Energy/ Enthusiasm/ Motivation/ Growth/ Action/ Spark/ Fun, Setback, Wasted Talent/Potential, Selfishness, Stuck
This is a wonderful high-energy card, promising big breakthroughs and real progress. Expect a day ruled by this card to be full of pleasant and unexpected surprises, nice twists of fates, and quirky happenings. This is a day to be filled up with the wonder and energy of life, a time when you'll find it easy to sail through your work, clear your commitments and really get on top of things. For a special few of us, there will be major steps forward into new areas of life – big changes which lead us toward our heartfelt hopes and dreams. There will be bounty and fortune for some of us.
For others, healing will be the most important matter at hand. Intractable and troublesome illness will fall away, or we will locate new ways of dealing with health matters. This will be a bright fresh happy day. Make sure you enjoy every minute of it!! The Ace of Wands is a symbol of possibility in the area of creativity, excitement, adventure, courage and personal power. In readings, it shows that a seed of bold enthusiasm has been planted in your life although you may not yet recognize it. When the seed sprouts, it could take almost any form. It might be a creative idea, surge of optimism or need to act boldly. On the outside, it could be an offer, gift, opportunity, encounter or synchronistic event. Wands are the suit of individual power and fulfillment. This Ace tells you that a time of passion is beginning. You will be able to assert your best for all to see.

This reading is part of a finance tarot reading using the The Ace of Wands using cards from the with the Rider Waite Tarot Deck. You will find many more tarot pages that will be of great help if you need tarot card meanings. Use the search at the bottom of the page. We have some amazing tarot books for you to browse. Please see below.
---
Here are some snippets from a few of my favorite books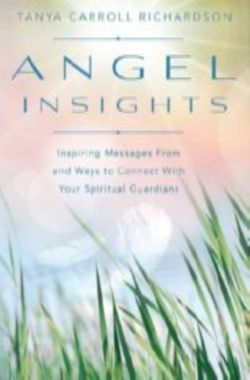 Angel Insights : First, pick out a stranger to pray for. This can be someone you see regularly, like the teller at your local bank, or someone you only glimpsed in passing, like a man on the street begging for money. Maybe you have an idea about what this person needs, like the homeless man on the corner. Or maybe you don't have a clue about the desires of this stranger's heart, like the bank teller.
Try our Love Horoscopes: Aries and Pisces Match
Reversed Cards: The Ace of Wands in the upright position shows us the divine spark, the burning desire, or the fiery lust for a new conquest. In order to pursue any or all of these things, one must have two things: intention and will. In other words, you need a clear goal and the commitment to follow it through. The Ace of Wands in the mirror aspect gives you a bit of space to really mull things over and see if you are headed in the right direction. How often have you been really excited by something only to find it was actually just an interesting distraction from where your time and energy should have been placed?
Reversed Cards: The Four of Cups in The Raven's Prophecy Tarot is almost identical upside down and right-side up, which makes it a fabulous image to illustrate the mirror aspect of this card: similar but different. The card depicts two ravens standing in water and pointing in the same direction as their reflections below. If you were to place a mirror next to this card, all four crows would be looking back at the others, as if looking into the past. It is as if their current emotional status is due to something behind them. Upright, they look to the future. Which is causing your emotional concerns, points of overwhelm, or moment of opportunity right now? The past or the future? The ravens wish to know.
Feel free to drop us a line if you looked for The Ace of Wands Rider Waite Finance Tarot Reading and you don't see what you want. We would be glad to help. In the meantime checkout The Angel of Faith Angel Card.
Reversed Cards: Stress fractures, tears, and holes can result anywhere energy is trapped, which makes the cards around the reversal that much more important. These surrounding cards could be warning you of an impending explosion, especially if the Tower is present in the reading. They could also be showing you exactly where the damage occurred and how all of this got so messy in the first place. Knowing there is a blockage is one thing. Knowing the damage it can and does cause is another. A blocked card gives you a way to assess damage control either before or after the event.