Not looking for The Nine of Cups Tarot Card Meanings Golden Deck? You will see a search option at the bottom of the page. We have many pages just to get you precisely where you want to go.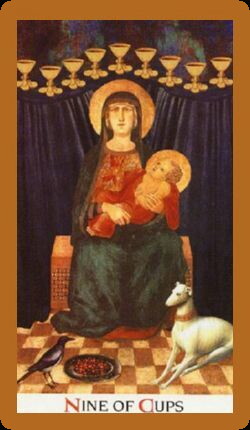 The Nine of Cups
: Upright Meanings
Physical Well-Being
Hopes
Security
The Nine of Cups: Reversed Meanings
Illness
Failure
Overindulgence
The Golden Tarot Nine's
Nine's hold energy of attainment and completion, but with that closure, we understand we are also faced with renewal. There is no ending without a beginning Nine people are influential, and easily manage groups of people. These individuals are perfect for leadership and places of power when they utilize their nine strengths in a healthy manner. Nines are among the most powerful cards, usually granting the querent what it is they are looking or asking for. Nines require deeper thinking and wider vistas. It's a stage where we're synthesizing information, contemplating how far we've come, and realizing the extent to which we've changed. As a number, nine is visionary, conscientious, and universal. It's a point where we look beyond ourselves to the larger meaning and reverberations of our actions.
The Golden Tarot Suit of Cups
The Suit of Cups deals with the emotional level of consciousness and is associated with love, feelings, relationships and connections. Cups are about displays of emotion, expression of feelings and the role of emotions in relation to others. The Cups Tarot cards indicate that you are thinking with your heart rather than your head, and thus reflect your spontaneous responses and your habitual reactions to situations. Cups are also linked to creativity, romanticism, fantasy and imagination. The negative aspects of the Suit of Cups (i.e. when the Cups cards appear reversed) include being overly emotional or completely disengaged and dispassionate, having unrealistic expectations and fantasising about what could be. There may be repressed emotions, an inability to truly express oneself and a lack of creativity. The Suit of Cups traditionally represents the west and autumn. If using an ordinary deck of playing cards, Cups are represented by the Suit of Hearts.
Comprised of imagery from the European masters paintings, Golden Tarot cards pay tribute to artwork of the Middle Ages and early Renaissance. The Golden Tarot of Klimt is one of the best for artwork. Golden Tarot aims to reconnect the Tarot aesthetically and esoterically to its origins in early-renaissance Italy. From a time of violence, pestilence and oppression came poignant images of gentle beauty and human frailty.

Although this page is designed to be viewed individually when you search for Nine of Cups Golden Tarot Meanings, you will find many more tarot pages that will be of great help if you need tarot card meanings. Use the search at the bottom of the page. We have some amazing tarot books to suggest to you. Please check them out.
---
Here are some snippets from a few of my favorite books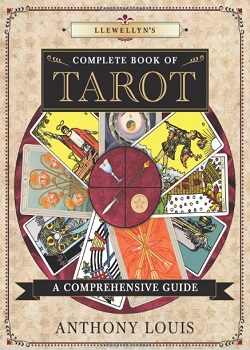 Complete Book of Tarot: Card 8, the experience of those surrounding the querent, was the Nine of Cups, often called the 'wish card.' Most likely this card referred to his girlfriend's belief that getting pregnant would be a wish come true.
Creative Tarot: We don't know the full history of tarot, but these are the elements that helped create it. Humans searching for meaning discover it in the everyday things they have lying around. They pay attention to and consider the patterns of the cards. They share their knowledge with others, who then expand on those meanings. They tell one another stories about the cards, thereby creating even more complex patterns and meanings. And then it becomes as if we were never without them.
Complete Book of Tarot: The meaning of a tarot card depends entirely on the intuition and sensitivity of the reader.
Do get in touch if you looked for Nine of Cups Golden Tarot Meanings and we don't have it listed. We would be more than happy to source the information for you. We hope you visit again for more online tarot information!