Not looking for The Three of Wands Tarot Card Meanings Thoth Deck? You will see a search option at the bottom of the page. We have many pages just to get you precisely where you want to go.
The Three of Wands
: Upright Meanings
Cooperation
Good Partnership
Success
The Three of Wands: Reversed Meanings
Carelessness
Arrogance
Pride
Mistakes
The Thoth Tarot The Three's
By nature the threes deal with creativity and growth. Like all tarot cards, this can go in different directions. Take the celebratory three of cups, for example, and contrast it with the dire and dramatic three of swords; some combinations are more constructive than others. Threes also indicate a turning point, moments that unfold after the director calls 'action!' They're active and dynamic unlike the more stationary twos. Because of this threes show times when change is afoot and the querent can harness the energy presented to them as they see fit. The threes, a number that's all about creation: the act of making something from the union of two. The most obvious and oft-cited metaphor for this is birth – a child created from two partners.
The Thoth Tarot Suit of Wands
The Suit of Wands is associated with primal energy, spirituality, inspiration, determination, strength, intuition, creativity, ambition and expansion, original thought and the seeds through which life springs forth. Wands deal with the spiritual level of consciousness and mirror what is important to you at the core of your being. Wands are also indicative of all things that you do during the day to keep you busy, be it working at the office, home or the great outdoors. Wands have to do with movement, action and initiatives and the launching of new ideas. They may be indicative of a never-ending 'Ideas List' or 'To Do List', whereby the client has many projects on the go to keep them busy. The negative aspects of the Suit of Wands include illusion, egotistical behaviour, impulsiveness, a lack of direction or purpose, or feeling meaningless.
The magnificent Thoth Tarot Deck contains the Kabbalistic and astrological attributions described in Aleister Crowleys Book Of Thoth. It is known for its striking beauty, as well as its depiction of an understanding of the occult that was gathered over a lifetime of study. In 1773 Antoine Court de Gébelin claimed that Egyptian priests coded the Book of Thoth into the images of the tarot.

Although this page is designed to be viewed individually when you search for Three of Wands Thoth Tarot Meanings, you will find many more tarot pages that will be of great help if you need tarot card meanings. Use the search at the bottom of the page. We have some amazing tarot books to suggest to you. Please check them out.
---
Here are some snippets from a few of my favorite books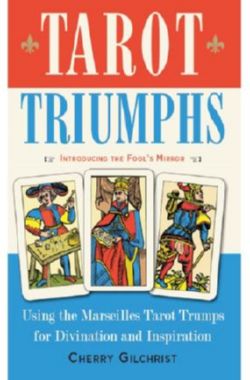 Tarot Triumphs: Every card contains living beings that can yield sensory information. Take note of anything else that happens as you touch; perhaps the character or creature will react, move, or even speak to you. Don't be surprised if you have an intense response to one or two aspects of the cards, but treat it as part of the range of experience rather than becoming overly concerned about what it means.
Elements of the Psychic World: Objects, such as cups, dishes or ornaments, kept by families for generations as tokens of good luck. According to tradition lucks cannot be bought; they must be given to a family, typically by royalty or magical individuals such as witches or fairies and as long as they remain intact the family line will thrive. Lucks were once commonplace in the British Isles among the gentry and nobility, and it is conceivable that in the days when reading and writing were not common some lucks were tokens of tenures
Development for Beginners: All of these instances are basic forms of psychic, or sixth sense, experiences, and in this book, I am going to show you how to build upon these types of
Do get in touch if you looked for Three of Wands Thoth Tarot Meanings and we don't have it listed. We would be more than happy to source the information for you. We hope you visit again for more online tarot information!