Your Chosen Card – Ace of Wands Reversed Mage Deck
When reversed, the Ace of Wands points to problems with starting something new. Perhaps you are lacking in motivation or your creative ideas seem to have dried up. Maybe you have gotten off to a bad start or you are not making the optimal kind of effort to get your project off the ground. You have planted some seeds but they are refusing to sprout. Your creative juices don't seem to be flowing, and you feel as if you are passing through a barren period. Keep in mind the words of the Sufi poet: 'This too shall pass.'
Keywords Reversed: Decline, weakening, false start, failure to ignite, lack of motivation, weakness, frustration, insufficient effort, barrenness, a seed that does not sprout.
Timing: Astrologically, Fire is linked to springtime.
Astrology: Root-force of Fire, the element associated with the season of spring.
Number Symbolism: 1 – initial spark, will, creation, beginnings, new life.
Ace Of Wands: The Spark Of Life
When Ace of Wands is reversed you can pretty much take it that life is going well but that's when life takes us by surprise.  If Ace of Wands is unclear it may help to choose a card from the Major Arcana to provide more insight into what it is Ace of Wands is trying to tell you.  If you had a particular issue in  mind, or want to seek clarification on something else, you can also choose again to get more guidance.

This chosen card is part of your reversed card reading for Ace of Wands using cards from the Mage Tarot Deck. You will find many more tarot pages that will be of great help if you need tarot card meanings. Use the search at the bottom of the page. We have some amazing tarot books for you to browse. Please see below.
---
Here are some snippets from a few of my favorite books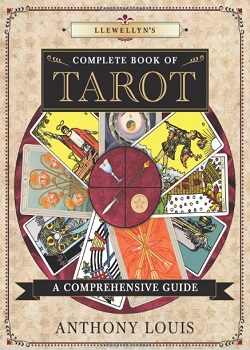 Complete Book of Tarot: And Joseph said unto Pharaoh, The dream of Pharaoh is one: God hath shewed Pharaoh what he is about to do. The seven good kine [cattle] are seven years; and the seven good ears [of grain or corn] are seven years: the dream is one. And the seven thin and ill-favored kine that came up after them are seven years; and the seven empty ears blasted with the east wind shall be seven years of famine. This is the thing which I have spoken unto Pharaoh: what God is about to do He sheweth unto Pharaoh (Genesis 41:25–28, King James Version).
Complete Book of Tarot: When upright, the Ace of Wands suggests new beginnings and promises success related to enterprise, ambition, identity formation, career, and self-realization. Your creative juices are flowing. You may be expanding your career, starting a new job, or initiating a business venture. This is a time characterized by enthusiasm, inventiveness, ambitious goals, and innovative projects. Wands are associated with the element Fire, the spark of life. This ace sometimes signals a pregnancy or the birth of a child. In the Prometheus myth, the fire this mythical figure steals from the gods signifies the awakening of the human mind.
Angel Encyclopedia: To further add to the air of mystery that he liked to engender, Kelly claimed the messages were always dictated backward, because to communicate them directly would unleash dangerous and powerful forces beyond control. When the messages were finished, he and Dee rewrote them in reverse order.
Do get in touch if you looked for Ace of Wands and we don't have it listed. We would be more than happy to source the information for you. We hope you visit again for more online tarot information!
Tarot for Beginners: The Ace of Wands predicts success in all kinds of new plans and projects. This is a very good time to take an important step forward. If you're uncertain about how to proceed with an idea or inspiration, the Ace is advising you to take a risk and go for whatever it is you truly want to do.