This page is part of your spiritual tarot reading with the Thoth Tarot Deck. If you are reading this page by accident you may prefer our Spirit Guide Quiz or if you looked for The Moon specifically try The Moon Thoth Tarot Meaning. Love, Luck and Light to all!
Faith, Spirituality Or Psychic Progression:
When you draw The reversed Moon, this is still a very spiritual time and a great time to get a reading, have healing work, or to seek other helpful input from spiritual types. You are more psychically open than usual now (although when the card is reversed, the messages you are getting may be more difficult to interpret.) As with an upright meaning of the card, The reversed Moon tells you to pay attention to your thoughts and feelings, and to flashes of information that come seemingly out of nowhere.
Card Meanings: Negative Advantage, Truth, Subsiding Anxiety, Regaining Composure, Unveiling Secrets, Releasing Fear, Trifling Mistakes, Deception Discovered, Self-Deception
The Moon indicates that things may seem somewhat confusing to you now. You may find it hard to understand where you are coming from, much less what others are thinking and feeling! You need to try to sit with the uncertainty, don't try to force things or people to do things before they are ready. This card is the 'Pisces' of the deck.

This reading is part of a spiritual tarot reading using the The Moon using cards from the with the Thoth Tarot Deck. You will find many more tarot pages that will be of great help if you need tarot card meanings. Use the search at the bottom of the page. We have some amazing tarot books for you to browse. Please see below.
---
Here are some snippets from a few of my favorite books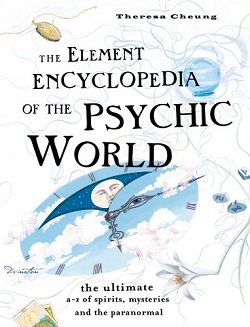 Elements of the Psychic World: A number of other words are used to describe mediums, such as channeller, fortune-teller, witch, medicine man, mystic, priest, prophet and wise woman, but important distinctions can also be made. According to experts the role of the medium may have developed historically out of the role of the shaman who communicated with the spirit world by becoming possessed by spirit deities and animal spirits. Mediums serve as a conduit between the physical world and the spiritual realm. During a self-
Try our Love Horoscopes: Gemini and Pisces
Development for Beginners: Cancer is the fourth astrological sign of the zodiac. It is ruled by the moon and is associated with the constellation Cancer the crab. It spans between the 90th and 119th degree of ecliptic longitude.
Tarot Beginners Guide: Numbered 17, this card is the card of hope. It points the way to an easier existence, providing we have faith, hope and trust. It heralds good fortune, better situations, good news, rest and relaxation, satisfaction and also a period of study in order for knowledge to grow. This card is the card of new life, talents and vigour. We should learn to guard against our self-doubts and have faith, trusting in our own inner wisdom and strengths. The Star card has links with the Star of Bethlehem, which served as a guide to those seeking the Messiah, and should be similarly regarded by those looking at the tarot pack, in that we will be guided and must have hope in a happy outcome. We will find redemption and salvation, but should beware of sinking into baser values and becoming dependent upon others. Our hope should not be blind, however. Should the card be reversed, we may fall victim to a spell of bad luck or pessimism, not seizing opportunities presented, making errors of judgement through weakness or stress. We are warned that some of our friendships may not be beneficial to us, despite current harmonious situations.
Feel free to drop us a line if you looked for The Moon Thoth Spiritual Tarot Reading and you don't see what you want. We would be glad to help. In the meantime checkout Tarot Reader Derby.
Portable Magic: the final stage of emanation before the bringing forth of the material universe. The light of consciousness from Tiphareth directly above is thickened and given persistent shape, like cooling wax poured into a mould. To it is assigned the Moon, the gatekeeper of the heavens.