This page is part of your spiritual tarot reading with the Golden Tarot Deck. If you are reading this page by accident you may prefer our Spirit Guide Quiz or if you looked for The Hanged Man specifically try The Hanged Man Golden Tarot Meaning. Love, Luck and Light to all!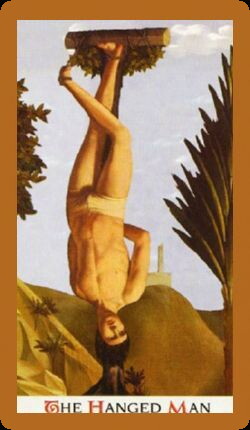 Faith, Spirituality Or Psychic Progression:
When this card appears in reverse in relation to spirituality, old messages we received as children can be coming back to haunt us. This is especially true for those raised in fundamentalist or evangelical religions. Examine your long-held beliefs and see if they withstand the light of day. Ideally spirituality is a process and a growth. Concepts that were complete enough when you were twelve years old may not be so complete today. Do not hesitate to reach out and study with others- consider their spiritual points of view and see what rings true for you.
Card Meanings: Discontentment, Useless Sacrifice, False Prophecy, Unwillingness, Impulsiveness, Apathy, Disinterest, Stagnation, Negative Patterns
The Hanged Man generally shows that you are at a crossroads – one with only two options i.e. in or out, up or down, yes or no. You may find yourself very much wanting to do 'something' but having no idea what it is or how to do it. If that happens, that's a clear sign that you should stop, relax, and look at ways that you might need to let go of attempts to control life/situations/people/things.

This reading is part of a spiritual tarot reading using the The Hanged Man using cards from the with the Golden Tarot Deck. You will find many more tarot pages that will be of great help if you need tarot card meanings. Use the search at the bottom of the page. We have some amazing tarot books for you to browse. Please see below.
---
Here are some snippets from a few of my favorite books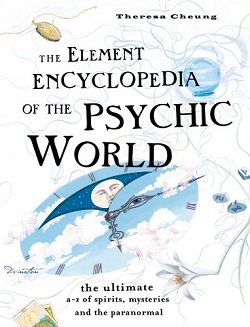 Elements of the Psychic World: Ancient Jewish mystical tradition that refers to secret teachings handed down from teacher to pupil and promises spiritual enlightenment to those who follow its precepts. The Kabbalah is a doctrine of esoteric knowledge concerning God and the universe. It is largely mathematical in nature and concentrates on the configuration of magical words, anagrams, angel and demon names and the most holy, the secret name of God.
Try our Love Horoscopes: Aquarius and Cancer Match
Reversed Cards: The Hanged Man is influenced by its sun sign cohort, Pisces. This dreamy, watery element is what makes the Hanged Man a creative manifestor. In his state of self-awakening, he is able to tap into the watery flow of intuition and dreamtime. This is important here in the mirror aspect as water is reflective. When one is meditating on images, sounds and smells all pass on by. Some linger while others do not. Once your mind has gotten past the everyday hum, you need to start paying attention to what you see, hear, smell, and feel. These sensations are coming from somewhere, someone, or something. By being able to use the watery element of Pisces here, you will learn to gain access to these images in your meditative states. The more you play with the Hanged Man in this position, the more you will learn, such as how to hold the space for things you wish to manifest. How to summon your next step. How to open up channels of communication with your guides, and how to tap into the divine web of unlimited supply. Just don't be fooled into thinking that this will be an easy process: remember, the Hanged Man has had to force himself to take this journey. He literally had to tie himself to a tree, which means you too will have to enact some self-discipline and commitment.
Tarot Triumphs: From the historical Tarot cards that survive, we can see that the Sun, like the Moon, settled into one chief representation three or four hundred years ago after appearing in a few variations, such as that of a naked boy holding the sun, or, more notably, riding a horse and carrying a banner, which may represent the Sun as Victory in Christian terms.59 Another version shows a woman spinning thread under the Sun's rays, an action that is associated with fate and time, and thus probably indicating the importance of the sun as cosmic timekeeper and ruler of the seasons for our life on earth.60 The sun as governor of life cycles is certainly an aspect to keep in mind. The Marseilles version shows two identical semi-naked boys linking arms in kinship or friendship as the 'drops' of the sun fall around them. We can interpret the drops in the same way as for the moon, but what do the boys themselves mean?
Feel free to drop us a line if you looked for The Hanged Man Golden Spiritual Tarot Reading and you don't see what you want. We would be glad to help. In the meantime checkout Angel of Knowing.
Reversed Cards: For a planet that usually likes structure, discipline, and order, Saturn is really showing its sloppy side in the Eight of Cups. That could be because it is rubbing up against the dreamy, fantasy side of Pisces, or it could be that this whole experience has just not inspired it one little bit. If you have gotten this card in its retrograde aspect, you will need to retrace your steps to find the exact point you lost interest in this particular attempt at expansion. Somewhere along the line you missed the gift and the lesson of this experience. Go back and find it, and then you can move on clean and clear.