This page is part of your finance tarot reading with the Golden Tarot Deck. If you are reading this page by accident you may prefer our Spirit Guide Quiz or if you looked for The King of Cups specifically try The King of Cups Golden Tarot Meaning. Love, Luck and Light to all!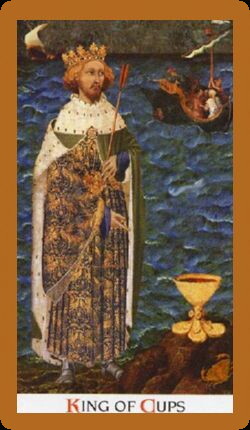 Finance, Money Matters Or Debt:
The reversed King can often point to someone who is prepared to risk everything, including financially, in order to pursue a dream. There is nothing wrong with this provided one has a solid plan and is willing to work to bring things about; however, if the 'dream' is getting rich at the gambling tables, this is a big problem. Watch out for these tendencies and make sure that you protect yourself.
Card Meanings: Conman, Overly Emotional, Gullible, Rape, Unkind, Cheater, Crafty, Violent, Violence, Repressed, Blocked Creativity, Cold, Depressed, Overwhelmed, Anxious, Affair With Married Man, Scandal, Uncaring, Unbalanced, Withdrawn, Controlling, Manipulation, Double-Dealer, Deviance, Emotionally Immature Male, Moody
The King of Cups speaks of balanced male and feminine energy; he holds all the positive qualities of both masculine and feminine. Often he indicates a literal man in your life. Usually, when he represents a live person', he's referring to a very kind and loving man, who will generally have hair on the lighter end of the spectrum. Know that you are supported by the universe, in ways seen and unseen, when he appears.

This reading is part of a finance tarot reading using the The King of Cups using cards from the with the Golden Tarot Deck. You will find many more tarot pages that will be of great help if you need tarot card meanings. Use the search at the bottom of the page. We have some amazing tarot books for you to browse. Please see below.
---
Here are some snippets from a few of my favorite books
Reversed Cards: Have you ever made a nice chunk of money only to see it all flow straight back out the door to pay bills? It slipped through your fingers before you even got to enjoy it. This is the Page of Pentacles in retrograde. You never quite get to enjoy what you have created through hard work, be it a drop in weight by sticking to your diet or maybe just seeing your bank account with actual money in it. The good news is that, like all retrograde cycles, this won't last. Just hang in there, because eventually you and the page will get a handle on this new gift you have been given.
Try our Love Horoscopes: Capricorn and Taurus
Portable Magic: She gathers up the cards in the reverse of the order in which they were laid out, first the King of Cups and the three realizers beneath it, then the three elemental trumps of the triangle, then the three planetary modifiers on the circle, followed by the cards of the circle itself, and finally her own significator followed by the
Tarot Triumphs: Layouts such as the Celtic Cross, which use only a selection of cards drawn from the Major Arcana, are a valuable resource. You will find plenty more examples of spreads in the Tarot literature and online, if you feel the need to try out others as well.11 I've chosen this particular sequence of Tarot spreads here—the three-card reading, to a four-card reading, then to the sevenfold version of the Celtic Cross, and finally to the complete set of Triumphs in the Fool's Mirror spread—as a way to build expertise and also show how different layouts may have their own particular uses, from direct, brief readings to more subtle and complex ones. In the next chapter, we move on to the final layout, which uses all twenty-two Triumphs.
Feel free to drop us a line if you looked for The King of Cups Golden Finance Tarot Reading and you don't see what you want. We would be glad to help. In the meantime checkout Tarot Reader Radnorshire.
Reversed Cards: Intentionally self-inflicted pain is more common than you might think, and very often we do it so someone else won't be hurt. If you have received this card in the mirror position, there is a good chance you have decided to take on more than your fair share of the pain recently. This may be because you are at the beginning of a healing cycle, or it may be that you have decided to be the human shield for someone close to you. Either way, neither of these positions can be maintained for long.