What do reversed cards/card strength mean?
This angel, carrying a tambourine and clad in finely crafted robes, helps us to channel our life force into creative acts which bring music, colour and form into our existence. It blesses us to be abundantly creative in everything we do.
Belonging to the REALM: Heaven of Form , The Guardian Angel of Creativity is in the group known as Guardian Angels.
ANGELIC FUNCTION: To guide your creativity to flourish
GIFTS FOR THE EARTH: This angel can help you to be creative with your life; express yourself well in everything you do; acknowledge your creative gifts which come from the Source
This Guardian Angel watches over our creative gifts and helps us develop our self-expression. It is constantly presenting us with opportunities to expand our personal horizons. It encourages us to make the world a more beautiful and joyful place. This is the angel who stimulates our senses to see beautiful colours, devise fine designs, hear lovely music and read an abundant variety of good books.
Creativity takes endless forms and this angel inspires us to express our joy of living in a loving and caring universe. Our creativity may find its form in the way we dress, the food we cook, the way we decorate our homes or plant our gardens. It may be expressed as painting, dance, music or writing. With our angel's help we can be creative all the time. This angel offers us inspiration to change and transform the very depths of our being into those forms best suited to expressing our particular talents and imagination. It blesses all forms of our unique self-expression and wants us to share our light in whichever ways bring us pleasure and joy.
We can pray to The Guardian Angel of Creativity to guide us towards finding what is beautiful, whole, and genuine within ourselves and to allow expression to this awareness. We can ask for the grace to share our individuality with ease, and with the assurance that when we do express who we are we are confident that we are making a contribution to the well-being of everyone around us.
The more we are willing to express who we are the more we actually help make this planet a more beautiful and joyful place in which to be.
---
Here are some snippets from a few of my favorite books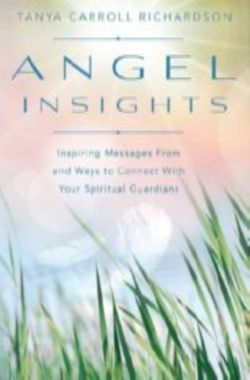 Angel Insights
Book DetailsAngel Insights : Do you ever wish you could get a clear message from your guardian angels? Ask them for advice when you are feeling down, celebrate with them when you're on top of the world, gain wisdom about life and Spirit from your angels?
Elements of the Psychic World: Official court astrologer to Queen Elizabeth I, admiralty spy – with the code name 007 – and transcriber of the angelic Enochain alphabet of alchemy and magic, John Dee was one of the most learned and remarkable occultists of his day. It is thought that Shakespeare used him for his model of the magician Prospero in The Tempest.
Angel Insights : There are countless angels in heaven to aid you, and there are specific helper angels qualified to handle any request you offer up. Some helper angels might only be with you for an afternoon; if, for example, you ask for a helper angel who specializes in fashion and shopping to assist you in picking out the ideal dress. Other helper angels could be with you for decades if the project requires it. For example, you may be a concert pianist who asks for a helper angel who specializes in music and performance. This angel might remain with you throughout your career.
Do get in touch if you need more information about The Guardian Angel of Creativity and we don't have it. We would be more than happy to source the information for you. We hope you visit again for another angel reading!
Angel Insights : Your guardian angels were assigned to you at birth and took sacred vows to protect you and advocate for you throughout your soul's journey on this planet. The energy of your guardian angels is a maternal energy: devoted, unconditional, protective. I'm not talking about a human maternal energy, but an archetypal one. A maternal energy that is divine and what we would think of as 'perfect' or 'ideal' or 'pure.'