This page is part of your family tarot reading with the Rider Waite Tarot Deck. If you are reading this page by accident you may prefer our Spirit Guide Quiz or if you looked for The Hermit specifically try The Hermit Rider Waite Tarot Meaning. Love, Luck and Light to all!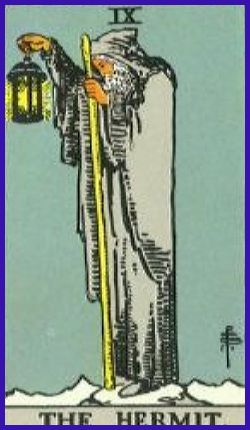 Family, Friends & Relationships:
Just like with the Strength card, you may even more so be in the frame of mind that you need some time alone – don't be afraid to take it. Even if it's just a five minute walk around the house so that you can clear your head. This is also very much a card about 'trying very hard to do the right thing.' Just make sure that 'doing the right thing' includes doing what is right for you personally, and not just worrying about the wants and needs of others.
Card Meanings: Caution, Prudence, Soul Searching, Introspection, Withdrawal, Vigilance, Spiritual Enlightenment, Inner Guidance, Self-Reflection, Contemplation, Inner Strength
The Hermit is an extremely spiritual card, and often has to do with institutions and large organizations – everything from a bank to the entire Christian Church. This card indicates spirituality even if you are an atheist. It's in whatever sense the word 'spirit' makes sense to you, even if for you 'spirit' equates to 'emotion.' You may be trying hard to figure out what the 'truth' is about someone (or some matter), don't feel that you have to do it all on your own, ask for help if you need it to gain different perspectives, more information, etc.

This reading is part of a family tarot reading using the The Hermit using cards from the with the Rider Waite Tarot Deck. You will find many more tarot pages that will be of great help if you need tarot card meanings. Use the search at the bottom of the page. We have some amazing tarot books for you to browse. Please see below.
---
Here are some snippets from a few of my favorite books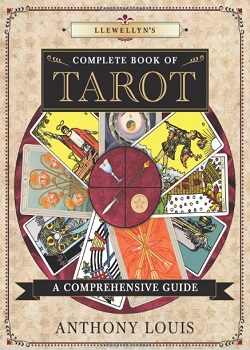 Complete Book of Tarot: The sequence of cards implies movement away from a difficult situation toward a period of family tranquility. The first card, the Six of Swords, shows a ferryman propelling a woman and child (the querent and her son?) away from troubled waters. The ferryman could well stand for the lawyer whom her son had consulted to handle his case. She and her son felt confident in the lawyer's ability. The outcome was that her son did not go to jail. Instead, he received a suspended sentence with a requirement to do community service and attend alcohol counseling. A little further on, we will see another reading for the same situation, this time asked by the woman's husband.
Try our Love Horoscopes: Spirit Guide Pictures
Complete Book of Tarot: When upright, the Hermit indicates a need to spend time far from the madding crowd. Now is a time to collect your thoughts and regroup your forces. A period of solitude and contemplation is in order. In this modern age of technology, someone quipped that meditation provides the answers you can't find on Google. You have been through a lot, and the time has come to wait and watch. An attitude of patient circumspection will allow you to put matters in perspective and learn from your experience. You might consider reading Eckhardt Tolle's book The Power of Now.
Angel Encyclopedia: MONT ST. MICHEL, FRANCE In France, a similar but grander Benedictine abbey was built on Mont St. Michel, a huge quasi-island rock 1 kilometer wide and 80 feet high, off the Normandy coast. Its isolation made it a natural locale for pagan cults and hermits.
Feel free to drop us a line if you looked for The Hermit Rider Waite Family Tarot Reading and you don't see what you want. We would be glad to help. In the meantime checkout The Archangel Gabriel Angel Card.
Reversed Cards: Are you ignoring your spiritual pillar? Perhaps you have decided it is all way too 'woo-woo' for someone like you. I know, I can relate. But if you have received the Hermit in the blocked aspect, this stubbornness of yours is doing you more harm than good. Just for now, allow yourself to explore the possibility that there may just be a spiritual path you can feel comfortable with. Just for now, explore the similarities between prayer, spellwork, and intention setting. Just for now, open up to the possibility that you can no longer ignore that what happens to you in real life might be connected to how you see your spiritual life. All you are doing is opening the door to possibility. Nothing more, nothing less. But this and this alone might just be enough to move you out of this blocked, limited, stuck energy.