Clairvoyants, Mediums and Psychics in Wiltshire
Samantha Scott
Swindon based Samantha Jane is an internationally acclaimed Psychic Tarot Reader, Medium and Healer who has been reading for clients around the world for over 16 years.
A natural born psychic my abilities include remote viewing, trance, transfiguration and psychic precognition. 
She has a love for the tarot and uses it to find happiness in this world and the clarity and strength to make empowered choices.
Samantha is a world class Psychic Reader and Medium with over 16 years experience who provides a range of emailed tarot readings within 24 hours for clients around the world.
Her specialty is readings the energies of the situation you are currently in and how to get the best out of the situation.
Tel: 07948 372 966


Clairvoyants, Mediums and Psychics in Wiltshire please contact us for your free listing here. If you were searching for a psychic in Wiltshire or any of the following areas, please reach out to us with the details of the psychic you eventually go to.
Covering the following areas in Wiltshire: Amesbury, Ashton Keynes, Avebury, Box, Bradenstoke, Bradford-on-Avon, Bratton, Brinkworth, Broad Chalke, Broad Hinton, Bromham, Bulford Camp, Burbage, Calne, Castle Combe, Chapmanslade, Chippenham, Chirton, Cholderton, Codford St Mary, Coombe Bissett, Corsham, Cricklade, Crudwell, Devizes, Donhead, Downton, Durrington, East Knoyle, Farley, Fontmell Magna, Fovant, Great Bedwyn, Hawthorn, Hilmarton, Hullavington, Idmiston, Keevil, Kington Langley, Lacock, Lockeridge, Maiden Bradley, Malmesbury, Marlborough, Marshfield, Melksham, Mere, Middle Woodford, Minety, Neston, Netheravon, Ogbourne St George, Pewsey, Ramsbury, Salisbury, Seend, Shaftesbury, Sherston, Shrewton, Stapleford, Sutton Veny, Swindon, Teffont, Tisbury, Tollard Royal, Trowbridge, Upavon, Wanborough, Warminster, Westbury, Whiteparish, Wilton, Winterbourne Gunner, Winterslow, Woodborough, Wootton Bassett, Wylye

This page is part of our psychics directory for Wiltshire. If you weren't looking for psychics in Wiltshire use the search at the bottom of the page. In the meantime, we have some amazing books that may help if you want to know more about beoming a psychic. Please see below.
---
Here are some extracts from a few of my favorites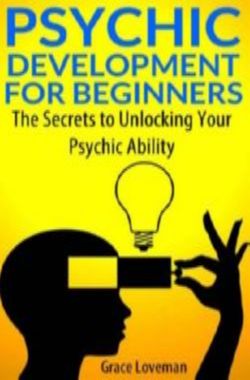 Development for Beginners: In doing these exercises, your conscious mind will remain active but in a controlled way. This type of controlled consciousness or awareness is what you are seeking to achieve when you are doing psychic work.
Books to help develop your powers as a psychic
Development for Beginners: You do not need to possess any special gifts or have a superior intellect in order to develop psychic abilities. The only thing you really need to have is an open mind. So now, before you progress any further, please ask yourself, "Do I have an open mind? Do I think it's possible for me to develop my own innate psychic ability?" If you responded negatively to these questions, then you should probably stop reading this book immediately. However, if your responses were both "Yes," then you are well on your way.
Development for Beginners: Step 6: Using the present tense, say your goal out loud. For example, "My telepathic abilities are at the optimal level," or "I got promoted at work" – not all of your goals have to relate specifically to the development of your psychic abilities.


Full List of areas covered on our Wiltshire Psychics page:
Aldbourne, Alderbury, Alderton, All Cannings, Allington, Alton Barnes, Alton Priors, Alvediston, Amesbury, Ansty, Ashley, Ashton Common, Ashton Keynes, Atworth, Avebury, Axford, Bagshot, Barford St Martin, Barrow Street, Baverstock, Baydon, Beanacre, Beckhampton, Beechingstoke, Berwick Bassett, Berwick St James, Berwick St John, Berwick St Leonard, Bewley Common, Biddestone, Bishops Cannings, Bishopstone, Bishopstrow, Blackland, Bodenham, Boreham, Boscombe, Bowden Hill, Bowerchalke, Box, Boyton, Bradenstoke, Bradford Leigh, Bradford-on-Avon, Bratton, Bremhill, Brinkworth, Britford, Brixton Deverill, Broad Chalke, Broad Hinton, Broad Town, Brokenborough, Bromham, Broughton Gifford, Bulford, Bulford Camp, Bulkington, Burbage, Burcombe, Burton, Bushton, Buttermere, Cadley, Callow Hill, Calne, Calstone Wellington, Castle Combe, Chapmanslade, Charlcutt, Charlton, Charlton-All-Saints, Chedglow, Chelworth, Cherhill, Chicklade, Chilmark, Chilton Foliat, Chippenham, Chirton, Chisbury, Chitterne, Chittoe, Cholderton, Christian Malford, Church End, Chute Cadley, Chute Standen, Clench Common, Clevancy, Cleverton, Clyffe Pypard, Coate, Codford St Mary, Codford St Peter, Colerne, Collingbourne Ducis, Collingbourne Kingston, Compton Bassett, Compton Chamberlayne, Coombe Bissett, Corsham, Corsley, Corsley Heath, Corston, Corton, Coulston, Countess, Cricklade, Crockerton, Crofton, Cross Keys, Crudwell, Dauntsey, Deptford, Derry Hill, Devizes, Dilton Marsh, Dinton, Ditteridge, Donhead St Andrew, Donhead St Mary, Downton, Durley, Durrington, East Chisenbury, East Grafton, East Grimstead, East Hatch, East Kennett, East Knoyle, East Tytherton, Eastcott, Eastcourt, Easterton, Easton, Easton Grey, Easton Royal, Ebbesborne Wake, Edington, Enford, Erlestoke, Etchilhampton, Everleigh, Farley, Fifield Bavant, Figheldean, Firs Road, Fisherton de la Mere, Fittleton, Fonthill Bishop, Fonthill Gifford, Ford, Fosbury, Fovant, Foxham, Foxley, Froxfield, Fugglestone St Peter, Fyfield, Garsdon, Gastard, Goatacre, Gomeldon, Great Bedwyn, Great Cheverell, Great Durnford, Great Hinton, Great Somerford, Great Wishford, Grittenham, Grittleton, Ham, Hamptworth, Hanging Langford, Hankerton, Hardenhuish, Harnham, Hawkeridge, Hawthorn, Heddington, Heytesbury, Heywood, Highway, Hilcott, Hilmarton, Hilperton, Hindon, Holt, Homington, Hook, Horningsham, Horton, Huish, Hullavington, Idmiston, Keevil, Kilmington, Kilmington Street, Kingston Deverill, Kington Langley, Kington St Michael, Knook, Lacock, Lake, Landford, Langley Burrell, Larkhill, Latton, Laverstock, Lea, Leigh, Leigh Delamere, Little Bedwyn, Little Cheverell, Little Langford, Little Somerford, Littleton Drew, Littleton Panell, Lockeridge, Longbridge Deverill, Longstreet, Lopcombe Corner, Lover, Lower Chute, Lower Seagry, Lower Stanton St Quintin, Lower Woodford, Luckington, Ludgershall, Ludwell, Lydiard Millicent, Lyneham, Maiden Bradley, Malmesbury, Manningford Abbots, Manningford Bohune, Manningford Bruce, Manton, Marden, Market Lavington, Marlborough, Marston, Marston Meysey, Mead End, Melksham, Melksham Forest, Mere, Middle Winterslow, Middle Woodford, Mildenhall, Mile Elm, Milston, Milton Lilbourne, Minety, Monkton Deverill, Monkton Farleigh, Morgan's Vale, Neston, Netheravon, Netherhampton, Netherstreet, Nettleton, Netton, Newton, Newton Tony, Newtown, Nomansland, Norrington Common, North Bradley, North Newnton, North Tidworth, North Wraxall, Norton, Norton Bavant, Norton Ferris, Notton, Nunton, Oaksey, Oare, Odstock, Ogbourne Maizey, Ogbourne St Andrew, Ogbourne St George, Orcheston, Oxenwood, Patney, Perham Down, Pewsey, Pitton, Plaitford, Porton, Potterne, Potterne Wick, Poulshot, Preston, Purton, Purton Stoke, Quemerford, Quidhampton, Ramsbury, Redlynch, Ridge, Rivar, Rockley, Rodbourne, Rollestone, Roundway, Rowde, Rushall, Salisbury, Sandridge, Sandy Lane, Sedgehill, Seend, Seend Cleeve, Sells Green, Semington, Semley, Shalbourne, Shaw, Shear Cross, Sherrington, Sherston, Shrewton, Slaughterford, Sopworth, South Newton, South Tidworth, South Wraxall, Southwick, Spirthill, St Edith's Marsh, Stanley, Stanton St Bernard, Stanton St Quintin, Stapleford, Startley, Staverton, Steeple Ashton, Steeple Langford, Stert, Stibb Green, Stock Lane, Stockley, Stockton, Stoford, Stourton, Stratford sub Castle, Stratford Tony, Studley, Sutton Benger, Sutton Mandeville, Sutton Veny, Swallowcliffe, Teffont Evias, Teffont Magna, The Common, The Green, The Shoe, Thickwood, Tidcombe, Tilshead, Tisbury, Tockenham, Tockenham Wick, Tollard Royal, Trowbridge, Trowle Common, Tytherington, Tytherton Lucas, Uffcott, Upavon, Upper Chute, Upper Minety, Upper Seagry, Upper Upham, Upper Woodford, Upper Wraxall, Upton Lovell, Upton Scudamore, Urchfont, Warminster, Wedhampton, West Amesbury, West Ashton, West Dean, West Grafton, West Grimstead, West Kennett, West Kington, West Knoyle, West Lavington, West Overton, West Stowell, West Winterslow, Westbury, Westbury Leigh, Westwood, Wexcombe, Whaddon, Whiteparish, Whittonditch, Wick, Wilcot, Willesley, Wilsford, Wilton, Wingfield, Winsley, Winterbourne Bassett, Winterbourne Dauntsey, Winterbourne Earls, Winterbourne Gunner, Winterbourne Monkton, Winterbourne Stoke, Winterslow, Woodborough, Woodfalls, Woodminton, Woodsend, Wootton Bassett, Wootton Rivers, Worton, Wylye, Yarnbrook, Yatesbury, Yatton Keynell, Zeals