This page is part of your work tarot reading with the Golden Tarot Deck. If you are reading this page by accident you may prefer our Spirit Guide Quiz or if you looked for Death specifically try Death Golden Tarot Meaning. Love, Luck and Light to all!
Career, Work Or Retirement:
You may be dealing with a quiet undercurrent of dissatisfaction in your working life. When this card appears in reverse, it does not mean that you should just ignore these feelings, it means you should give serious consideration to exactly what you are feeling, and why, and what you can do about it. Do not attempt to put all of the blame on others. As with an upright meaning in this context, you may benefit most from a complete change of field. If you are interested in doing so, make the leap, and know that you can do it.
Card Meanings: Immobility, Death, Fear Of Beginnings, Repeating Negative Patterns, Stagnation, Resisting Change, Inability To Move Forward, Slow Changes, Cheating
Death can sometimes, but not often, indicate physical death, referring to a passing already happened. This card more often indicates transformation and change. This is definitely a time of deep transformation, likely to be both internally and externally in your life. Situations, things, and people that you have counted on or gotten used to may no longer be available to you in quite the same way as they once were. This transition can be very difficult for some people. The change though, is nearly always needed.

This reading is part of a work tarot reading using the Death using cards from the with the Golden Tarot Deck. You will find many more tarot pages that will be of great help if you need tarot card meanings. Use the search at the bottom of the page. We have some amazing tarot books for you to browse. Please see below.
---
Here are some snippets from a few of my favorite books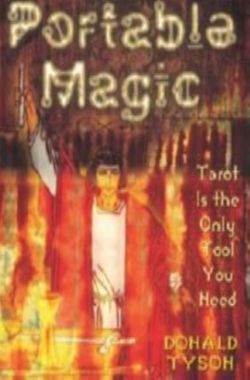 Portable Magic: For the first stage, the beginning of the fulfilment of her purpose, she picks the Three of Pentacles, which bears the title Lord of Material Works. It is of the nature of Mars acting in the second decanate of Capricorn, and also of Saturn modified by the influence of Binah. Pentacles is the suit of elemental Earth, and relates to material realization and manifest actions. Both Mars and Capricorn are strongly masculine, so there is much virile energy in this card. Its action will be overt and practical. Saturn is a cold and distant planet relating to restriction and discipline, but its aridity is softened by its action in the sphere of Binah, the great cosmic womb of creation. Saturn acting through Binah suggests the controlled and calculated investment of resources.
Try our Love Horoscopes: Aquarius and Aries
Complete Book of Tarot: Waite (1911): He is riding in full course, as if scattering his enemies. In the design he is really a prototypical hero of romantic chivalry. He might almost be Galahad, whose sword is swift and sure because he is clean of heart. Divinatory Meanings: A hero of romantic chivalry scattering his enemies, skill, bravery, capacity, defense, address, enmity, wrath, war, destruction, opposition, resistance, ruin. There is therefore a sense in which the card signifies death, but it carries this meaning only in its proximity to other cards of fatality; (R) imprudence, incapacity, extravagance.
Creative Tarot: The Rider-Waite-Smith differed from most decks in one important aspect: for the first time since the Sola Busca, all of the cards, including the Minor Arcana, were fully illustrated with human figures and other symbolic imagery. This is the full separation mark of the tarot from a deck of playing cards to a deck of divination cards. And this is where much of the meaning of the Minor Arcana cards became consolidated. Most of that is due to Smith's artwork. Waite wrote a few guides to the tarot, manuals on how to interpret each card, but Smith's imagery is what people remember, not Waite's definitions. Waite believed it was his writings and scholarship that would newly define the tarot, but it turns out that sometimes the brush is even more powerful than the pen.
Feel free to drop us a line if you looked for Death Golden Work Tarot Reading and you don't see what you want. We would be glad to help. In the meantime checkout The Guardian Angel of Service Angel Card.
Psychic Abilities : Today, it is clear that he was able to predict the death of Diana, Princess of Wales as well as the terrible September 11th, 2001 terror attacks that took place at the World Trade Centre in the United States.